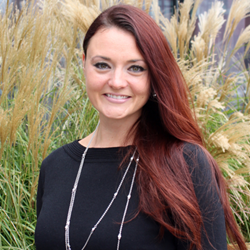 Los Gatos, California (PRWEB) January 19, 2016
PATHION Inc. a vertically integrated energy storage technology company, announced the appointment of Michelle Klassen as the company's Vice President of Business Development. In this role, Ms. Klassen will be responsible for identifying and leading strategic business development across the portfolio of PATHION products and creating solutions to meet customer needs. She is based at the PATHION facility in Northville, Michigan.
"Michelle is a great addition to our management team at PATHION," said PATHION Chairman & CEO Mike Liddle. "Her experience in developing new business opportunities and facilitating long term business relationships in government and international markets complements our growth path across all our business units."
Michelle joined The Green Panel in 2008 where she helped develop the market for residential and solar installations. She later joined Hawaii Solar & Electric and developed the commercial micro-grid program that was later absorbed into ZeroBase Energy in 2010. As Vice President of Global Development Solutions at ZeroBase Energy, she led the design and implementation of power systems and micro-grids for customers, including the US Department of Defense, Kenya Ministry of Energy and the Los Angeles Department of Water and Power. Other key responsibilities included leading the solutions teams in Pacific Rim, Government Defense and Security, Sub-Saharan Africa and energy management.
PATHION Inc. manufactures, markets, and sells high-performance, safe, and reliable Energy Storage Systems (ESS) under the name "PATHION Power" for commercial and industrial markets. The product line-ups feature modular storage platforms with integrated advanced lithium-ion batteries and battery management systems. PATHION Power Energy Storage Systems capacities range from 86 kilowatt-hours in stand-alone systems to over 1 megawatt-hour in containerized units. All of these systems support advanced energy applications such as load leveling, peak shaving, solar firming, frequency regulation, and demand response. In addition, the company has recently introduced "PATHION Marine" Power Core energy systems for the maritime industry. PATHION Marine's Power Core propulsion system is the next giant leap in delivering clean energy and high efficiency for the maritime industry. Continued development of government and international customers for these products represents another important part of Michelle's responsibilities.
About PATHION Inc.
PATHION Inc., a privately held Delaware corporation ("PATHION") with headquarters in the Silicon Valley and offices in Northville Michigan and Los Angeles, is a vertically integrated technology company whose mission is to develop, build and sell safe energetic materials, cells, batteries and intelligent energy storage solutions for commercial, industrial, marine and government agencies. PATHION holds the rights to key advanced materials, processes and products including a fire resistant advanced solid state electrolyte. Its solutions include Energy Storage Systems (ESS) and hybrid vessel propulsion, all providing high value, safe energy storage. As a result, PATHION is uniquely positioned to provide critical energy technology for a broad array of systems that fundamentally changes the way they operate while lowering their total cost of ownership. For more information on PATHION, please visit http://www.PATHION.com.
For further information please contact Dave Hurley at PATHION Inc. at (408) 484-9031 or via email at dhurley(at)pathion(dot)com