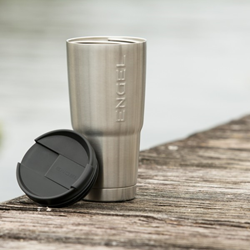 We're continually adding to our product line to meet the needs of more and more outdoors customers.
Jupiter, FL (PRWEB) January 19, 2016
Engel USA is announcing new additions to its line of coolers and outdoor gear for 2016.
Just before the holiday season, Engel USA introduced its new 30-ounce Tumbler to rave reviews from dealers and customers. It was so well received that the initial manufacturing runs sold out before they left the factory. Engel's Tumbler features double-walled vacuum insulation to keep drinks hot or cold. Unlike many competitive models, Engel's Tumbler comes with an airtight, single-twist, screw-on lid with a leak-proof, flip top opening. It's designed for rugged use in the field, on the job or on the water.
Engel USA has also added two new models to their line of Original High Performance Coolers. The ENG50 and ENG165 both have a taller, narrower profile, so added capacity inside doesn't necessarily take up more floor space in the back of a pickup or on the floor of an RV. Both models feature Engel's patented designs, with a tough roto-molded shell, sturdy lid and two-inch polyurethane insulation.
The ENG 165 is available in white, while the ENG 50 is available in white, desert tan, desert tan with camo lid and Engel's new Haze Gray color. Haze Gray offers similar reflective qualities to the company's white coolers, but dirt and grime are less visible – making it ideal for both backcountry campers and construction crews.
Engel's popular Backpack Cooler, featuring a 500-denier rip-proof outer shell, dual radiant barriers and a leak-proof, reinforced inner liner bag, is now available in Realtree® Xtra Camo. Its 23-quart capacity will hold plenty of supplies, and with the backpack straps, it's easy to carry in and out of camp. Engel USA believes that sportsmen from all over will appreciate the performance of this tough, versatile cooler bag, not to mention blending into the surrounding environment.
"We've been busy with product development for the past year and we're eager to see what 2016 holds," said Paul Kabalin, CEO of Engel USA. "We're continually adding to our product line to meet the needs of more and more outdoors customers."
About Engel Coolers
Engel Coolers offers a wide range of adventure gear, including high performance coolers, compact AC/DC refrigerator/freezers, cooler dryboxes, apparel and much more. For more information, please visit http://www.engelcoolers.com.