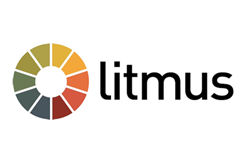 Cambridge, Mass. (PRWEB) January 19, 2016
Litmus, the leading web-based email creation, testing and analytics company today announced a partnership with Sendwithus aimed at improving triggered and transactional email design and testing.
Sendwithus is integrating Litmus' Instant Previews directly within their Advanced Editor application, which will allow users instant insight and control while editing and previewing emails. Litmus' Instant Previews API is the only email preview integration available in the marketplace that delivers real screenshots in seconds, giving Sendwithus customers instant feedback while building transactional messages.
Transactional emails are considered some of the most valuable emails a company sends because they contain crucial order confirmation or transaction details. Despite their value, these emails aren't paid the same attention as commercial marketing messages. The integration of Litmus' Instant Previews API and Sendwithus' Advanced Editor will give designers, marketers, developers, and IT teams the tools they need to create beautiful and functional transactional messages that ensure an excellent subscriber experience across all email communications.
"Triggered emails often contain information critical to customers such as order status, shipping alerts, and changes," said Justine Jordan, VP of Marketing at Litmus. "Yet, prior to this integration teams sending these emails have not had the tools to quickly see how these emails will arrive in customers' inboxes."
Litmus' Instant Preview API will enable users to preview transactional messages in more than forty different email clients and apps. Email builders will have the ability to quickly test and spot HTML and CSS bugs, and ensure graphics, links and images render correctly for every subscriber.
"We started Sendwithus to make transactional email easy for marketers, designers, and developers," said Matt Harris, CEO and Cofounder of Sendwithus. "Integrating the Litmus Instant API gives our users full control of their customer experience: an instant preview while editing, and a view of the email exactly as it appeared on the device the customer used."
Litmus' Instant Previews integration is available immediately in all paid Sendwithus accounts.
About Litmus Software Inc.
Litmus helps more than 250,000 marketers make email better. The web-based email creation, testing and analytics platform empowers marketers, designers and agencies to confidently deliver a superior subscriber experience. Litmus provides instant email previews and quality assurance tools across all major inbox providers, browsers, and devices, and features comprehensive analytics to help users quickly and easily build, test, troubleshoot and optimize every campaign. Headquartered in Cambridge, Mass., with additional offices in London, Litmus has partnered with more than 250 major email service providers and agencies, including MailChimp, IBM Silverpop and BrightWave Marketing. In late 2015, Litmus announced a $49M investment from Spectrum Equity. For more information about Litmus and the latest email news and trends, visit http://www.litmus.com.
About Sendwithus
Sendwithus is a platform designed to allow whole teams—designers, marketers, and developers—to work together smoothly on beautiful and complex emails. It offers all the tools you need to manage content and automation plus powerful analytics to track the true value of every email sent. For more information about Sendwithus, visit https://www.sendwithus.com/.