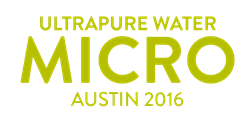 AUSTIN, Texas (PRWEB) January 19, 2016
UPW Micro 2016 will take place at the OMNI Hotel Southpark in Austin, TX, on June 7-8, 2016. The conference will have presentations on innovations in the treatment of high-purity and process water and wastewater at microelectronics facilities. Micro 2016 will again have 2 tracks: one for ultrapure water production and one for wastewater treatment from microelectronics manufacturing processes.
The co-moderators for 2016 are:
Season Hill, Samsung Austin Semiconductor
Alan Knapp, Evoqua Water Technologies
Slava Libman, Air Liquide-Balazs NanoAnalysis
John Morgan, H2Morgan LLC
Dan Wilcox, Samsung Austin Semiconductor
Bernie Zerfas, GLOBALFOUNDRIES
The conference will feature presentations, roundtable sessions and panel discussions, as well as exhibits by key suppliers of water treatment products and services to the microelectronics industry and an ITRS and SEMI 2016 update.
Micro has a call for papers and is accepting abstracts for papers and presentations through March 14th. More information on the call for papers and sponsorship opportunities are available at http://www.ultrapurewatermicro.com.
UPW Micro 2016 is co-located with Ultrapure Water Journal's conference on pharmaceutical water: UPW Pharma 2016.
Book now to take advantage of early bird registration rates.
For more information:
Yana Nazarova,
Yana(dot)Nazarova(at)globalwaterintel(dot)com
512-879-4208
Mike Henley
mhenley(at)globalwaterintel(dot)com
303-745-3890