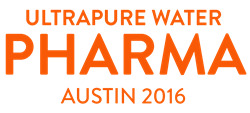 Austin, TX (PRWEB) January 19, 2016
UPW Pharma 2016 will take place at the OMNI Hotel Southpark in Austin, TX, on June 7-8, 2016. The conference will have presentations on innovations in the treatment of high-purity and process water, water for injection and wastewater at pharmaceutical facilities. The event will feature presentations, roundtable sessions and panel discussions, as well as exhibits from key suppliers of water treatment products and services to the microelectronics industry.
The advisory committee for 2016 is:
Anthony Bevilacqua, METTLER TOLEDO Thornton
Nissan Cohen, Start-up Business Development
Elizabeth Dunn, ProPharma Group
Rod Freeman, Beckman Coulter
Nik Krpan, Cheme Engineering
Joe Manfredi, GMP Systems
Nancy Tomoney, West Ward Pharmaceuticals
Themes for this year's event are:
-Pharma Industry Technology Needs
-Applications of New Technologies
-Changes to Regulatory Documents
-Lifecycle Cost of Water Systems/Cost
UPW Pharma 2016 has a call for papers and is accepting abstracts for papers and presentations through March 14th. More information on the call for papers and sponsorship opportunities are available at http://www.ultrapurewaterpharma.com/.
UPW Pharma 2016 is co-located with Ultrapure Water Journal's conference on microelectronics water: UPW Micro 2016.
Book now to take advantage of early bird registration rates.
For more information:
Yana Nazarova,
Yana(dot)Nazarova(at)globalwaterintel(dot)com
512-879-4208
Mike Henley
mhenley(at)globalwaterintel(dot)com
303-745-3890