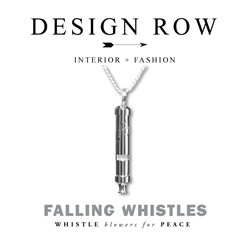 We are blessed to have the opportunity to make an impact on community and culture.
Los Angeles, CA (PRWEB) January 19, 2016
The design industry has a rich history of involvement with social change. Organizations such as DIFFA, Architecture for Humanity, Design Corps, and the fashion industry's campaign with Born Free are a few examples of the relationship between design and community outreach. The recently launched furniture and lifestyle e-commerce store Design-Row has just launched a category called "Karma" as a means of helping give back brands get further exposure.
"Karma" is a place for Design-Row to highlight brands that leverage the revenue from product sales to impact social change. Natalie Norcross, one of Design-Row's three principal founders, stated "We are blessed to have the opportunity to make an impact on community and culture." Natalie has had a lifelong commitment to betterment, and has dedicated much of her time to mentoring women who aspire to follow in Natalie's steps to become entrepreneurs.
In an industry which is rooted in the desire to beautify one's environment, Design-Row wants to excite their visitors with their ability to help beautify the global community. Studies have shown that the tenet of consumerism as a means of supporting humanitarianism is of growing importance to millennials and Design-Row saw their demographic as being an audience eager to participate in making a difference.
The first brand Design-Row chose to be a part of the Karma section is Falling Whistles. Falling Whistles manufactures necklaces featuring whistle charms. These charms, from which the company chose their name, are symbolic of the children too small to carry guns being sent to the frontlines, armed with only a whistle in the Congo. Statement piece jewelry is meant to spark up the conversation and thereby shed light on a tragedy which plays out every day and yet which few people are aware of.
The Design-Row team has stated that they will be adding new brands to the Karma section several times a year, and that with each new brand's addition, the Design-Row website will display that brand on the homepage. Design-Row's blush aesthetic is a fitting backdrop for its mission on compassion.
About Design Row
Design Row is where luxury shopping and consciousness converge. Creators and consumers who care shop Design Row because they believe in beautiful spaces and a beautiful world. We work with non-profit organizations putting your dollars to work for a better tomorrow. We bring the good with the glamour.
And when it comes to shopping: No regrets, no faux pas, no missteps.