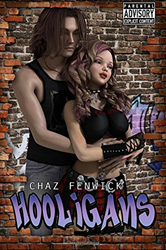 "This is a substantial read and it doesn't take long to find yourself completely removed from the safety of your couch and fighting for your life among these two groups of criminals, miscreants, and wayward young people..." - online review
(PRWEB) January 26, 2016
A cycle of tit-for-tat gang violence has turned the streets of urban Sydney into a battleground for "Hooligans."
At the center of this modernized "West Side Story" are the Metalheads, a street gang of heavy metal teen misfits who party, do drugs and alcohol, and glorify sex and violence.
When Trisha Williams, the hottest rocker chick in town, is thrown a 16th birthday bash at her father's house, things take a turn for the worse. The notorious Westside Gangstas, a criminal street gang feared for its ruthlessness, crash her party. A brawl erupts and popular teen Dayne Hetfield is caught having sex with a gang member's girlfriend. Thus begins a violent cycle that throws the city into chaos.
Friendships become strained and relationships are broken, as beatings, bloodshed, bombings, and murder take their toll on Dayne and his Metalhead mates. Neither side is willing to give in, and the gangs' animosity rages on until only one side is left standing.
Readers are warned that the book's realism includes violence, rape, and vulgar language.
The online reviews are in:
"'Hooligans' is a modern version of "West Side Story," a novel about a world most of us will never see. It is the youthful underside of every big city, where teens with no guidance spend their time seeking relief from the agony of the world they inhabit..." "The reading experience was a non-stop adrenaline rush from the first page to the last. Author Chaz Fenwick has done a remarkable job in crafting this gritty, thrilling, and action-packed novel..." "I've never read a more action-packed book..." "'Hooligans' kept me flipping the pages for hours with its fast pace and non-stop action. This is a substantial read and it doesn't take long to find yourself completely removed from the safety of your couch and fighting for your life among these two groups of criminals, miscreants, and wayward young people..." "Wowed by the writing..." "Chaz Fenwick has pulled absolutely no punches..." "Not all of the characters are heinous individuals, and Fenwick cleverly explains how each of them get sucked into this lifestyle, doing things that perhaps in another life they would not have done."
About the Author: Chaz Fenwick was born in the seaside city of Wollongong, New South Wales, Australia. Heavy metal music became his passion when he was 15. Metallica's black album was his first listening experience and he's been hooked ever since. He spent his teenage years partying, playing the bass guitar, writing screenplays, and not taking school seriously. In his 20s, he joined the adult entertainment industry, starting as a web designer. He lived for two years in Los Angeles, working on television production pilots. One show, "Kiki's American Adventure," aired one season on Playboy TV. After some wild years of L.A. living, he returned to Australia to live in Noosa Heads in Queensland. His travels to the UK, France, Monaco, Thailand, Cambodia, and Russia gave him the inspiration for Hooligans. He currently resides in Surfers Paradise on Queensland's Gold Coast.
The compelling new book HOOLIGANS (ISBN: 978-1-50755-755-6) is now available for $12 (Kindle price $2.99) and can be ordered at Amazon.com or Barnesandnoble.com.