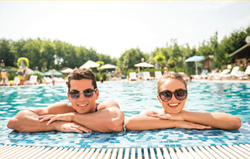 "Travelers today want more than just another hotel stay. weholi expands their options and saves them money." ~ Fermin Cruz
TEMPE, AZ (PRWEB) January 20, 2016
weholi, an online vacation community, announces that it has expanded options for travelers through direct access to resort vacation properties around the world, in addition to exciting travel benefits– much of which comes with guaranteed low prices.
If you're looking for more than a hotel, weholi provides access to properties with all the comforts and conveniences of home, but with a formal check-in and a full set of resort-style amenities at great locations. Additional travel benefits include deep discounts on nightly hotel stays, car rentals, cruises, and the ability to book airfare. 
weholi is Spearheading an Emerging Marketplace
Founded in 2014, weholi is a calculated response to a shift in the travel and hospitality marketplace. "Today, travelers of all ages are seeking out things they haven't tried before, from cruises to traveling solo or with an extended family. They choose destinations based on culture, localized experiences, and great deals. They choose accommodations that feel like a home away from home - with wired, open spaces, kitchens, multiple bedrooms and more. They get all that and more through weholi," says Fermin Cruz, weholi's Vice President of Sales & Marketing.
weholi is unique in that it empowers owners of resort vacation properties to rent or sell them directly to the public. The result is that travelers now have access to properties that were traditionally unavailable to the general public. Owners benefit when heads are in beds, and travelers get more bang for their buck.
About weholi
weholi is a secure, transparent marketplace connecting travelers with owners of resort vacation properties around the world. Guest membership is free and there are no hidden costs. Both travelers and owners enjoy expanded travel options and exclusive benefits.
Explore now, visit: http://www.weholi.com or speak to a live concierge agent at 1-800-592-1745