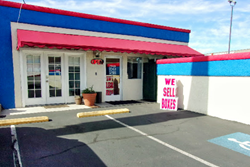 Irvine, CA (PRWEB) January 19, 2016
US Storage Centers (USSC) announced today that it entered into an agreement with Wentworth Property Company, LLC (WPC) to manage the self storage facility located at 8140 West Sahara Avenue in Las Vegas, Nevada. The facility is WPC's third acquisition in Las Vegas, and is the fifth location in the city owned or operated by USSC.
"This is a great value-add opportunity to build upon the success of our relationship with WPC," said Jason Lopez, US Storage Centers' vice president of marketing. "We're already seeing early success in executing our plan and we are optimistic about the future."
The facility boasts 52,000 rsf, and extra-wide aisles and drive-up units. It features drive-up access, air cooled units, and RV parking. The property is surrounded by electronic gates, and is located on a major thoroughfare in a prime residential neighborhood.
"We are excited to have completed our third acquisition in Las Vegas in a span of about three months," said Dave King, Wentworth Property Company vice president of self-storage. "US Storage Centers has good scale in the market and they're able to operate really efficiently."
About Westport Properties - US Storage Centers
Founded in 1985, Westport Properties Inc. is the parent company of US Storage Centers (USSC) and owns and operates self storage facilities in 13 states. The Company is a fully integrated operator that develops, acquires and manages its own portfolio—additionally, the company provides third-party management services. As of February 2015, it has over 6.5 million rentable square feet under management and employs over 200 people. US Storage Centers is a founding partner of the 501(c)(3) Kure-It, a non-profit organization that raises money for underfunded cancer research, and Charity Storage, a 501(c)(3) that uses vacant storage units to raise money for local charities. To date, Kure-It has raised over $4 million and Charity Storage has raised nearly $220,000.
About Wentworth Property Company
Wentworth Property Company principals have been responsible for development and acquisition transactions throughout the Greater Phoenix area totaling more than 7 million square feet. Wentworth Property Company is currently in various stages of developing more than 3 million square feet of industrial and office buildings, and evaluating over 1 million square feet of self-storage facilities. For more than 40 years, the Wentworth name has earned a consistent presence in the Arizona commercial real estate market, honoring a tradition of excellence and integrity.