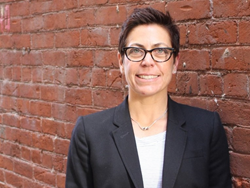 She has a style and expectations that can only be represented by someone who has done this type of work with high-performing individuals before
Denver, Colorado (PRWEB) January 19, 2016
Denver-based consulting firm, RAS & Associates, has steadily grown since their 2008 start. Today, the firm is close to reaching a 40-person team and is quickly planning to expand before the end of Q1 2016. Kim Sonnier, a former Accenture Managing Director, has been brought onto the executive team to expand performance capabilities by enforcing and improving the repeatable and scalable processes RAS has created in their seven years. Specifically, Sonnier will own the RAS Client Experience, the team's capability development, and overall delivery quality. Lastly, Sonnier will hold an imperative role in solidifying RAS' culture despite an expanding team and client base.
"At the end of 2015 we made a promise to our team" said Rob Swanson, CEO at RAS & Associates. "RAS will invest in People throughout 2016 and strive to harbor a structure that enables our team's growth, both professionally and personally. I have no doubt that Kim will bring a new level of quality and accountability to our team. She has a style and expectations that can only be represented by someone who has done this type of work with high-performing individuals before".
Sonnier joins RAS with 20 years of experience in Professional Services. Sonnier was a founding team member of Procurian, a niche spend management outsourcing firm that was acquired by Accenture in 2013. She helped build the company from start-up to a market leading, growing, profitable organization.
Most recently, Sonnier has been noted for accomplishments related to leading one of five global regions representing $250 million, growing revenues and profit, multi-year transformative change, and helping her clients reach compelling margin achievements.
Sonnier says, "I'm excited to be part of a rapidly growing company, committed 100% to the Denver community. I plan to help drive RAS in achieving significant growth through progressive people strategies, by building scale and capabilities, and in demonstrating a client experience of unequaled care and quality."
To learn more about RAS & Associates' team and career opportunities, visit their website at http://www.rasandassociates.com. Also, follow them via Twitter and LinkedIn. For business inquiries, please contact RAS & Associates' Chief Revenue Officer, Steve Foster, at sfoster(at)rasandassociates(dot)com or (720) 342-5535.