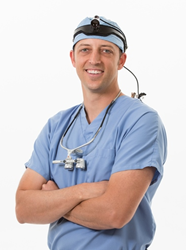 Fresno, CA (PRWEB) January 18, 2016
Patients in need of dental implants in Fresno, CA, are now invited to schedule an appointment with Dr. Scott Jett, even if they do not have a referral. Dental implants are a reliable tooth replacement option and have the added benefit of looking and feeling like natural teeth. Not all patients are eligible to receive dental implants, and Dr. Jett recommends that individuals receive a thorough examination from him before deciding whether or not implants are a valid replacement option for their missing teeth.
Dr. Jett is pleased to offer dental implants to Fresno, CA residents without requiring a referral. Individuals who have lost teeth due to advanced gum disease, old age or injuries are encouraged to learn more about receiving dental implants as an alternative to dentures or bridges for tooth replacement. One reason dental implants are so popular is because they are remarkably strong, due to the fact that they are integrated directly into the bone of the jaw. They are also made from titanium, which further adds to their strength and decreases the likelihood that they will be rejected by the body.
In order to be considered eligible for dental implants, patients must have adequate bone mass in their jaw. In some cases, Dr. Jett may be able to graft bone tissue into the jaw so that implants can be placed after the area has healed. If it is determined after an initial examination that a patient is a good candidate for implants, an implant placement appointment may be scheduled. Dr. Jett uses guided surgery to place implants safely and accurately in the jaw and to maximize predictability during the procedure.
Patients with missing teeth are encouraged to find out if they are good candidates for dental implants in Fresno, CA by scheduling an appointment with Dr. Jett. While other tooth replacement options are available, implants are preferred by many patients because they are reliable, comfortable and have a natural appearance.
About the Doctor
Dr. Scott Jett is a periodontist offering personalized dental care for patients in Fresno, CA. Dr. Jett has been setting the highest standards of excellence in periodontics, gum surgery and dental implants for nearly ten years. With a practice emphasis on dental implants and periodontal surgery, he continues to be a leader in the Fresno area. He earned his undergraduate degree at Auburn University and his dental degree at the Medical College of Georgia School of Dentistry before completing specialized post-graduate training in periodontics, as well as earning a Master of Science degree in bone physiology, from the Medical College of Georgia. In addition, Dr. Jett is a published author and an active member in many leading dental organizations, including the American Dental Association, American Academy of Periodontics, International Congress of Oral Implantologists, Fresno Madera Dental Society and the 3i Implant Innovations STP Study Club. To learn more about Dr. Jett and the services he provides, please visit his website or call (559) 339-0826.