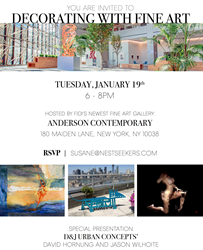 New York, NY (PRWEB) January 19, 2016
DECORATING WITH FINE ART -- DESIGNERS SHARE INSIDER TIPS
Anderson Contemporary, the newest fine art gallery in FiDi (the Financial District) is hosting "Decorating with Fine Art," on Tuesday, January 19th, 6 - 8 pm, at 180 Maiden Lane. David Hornung and Jason Wilhoite of D&J Urban Concepts will share insider tips on "how to make a room come alive using the right artwork."
This event is targeted toward real estate agents and their clients who have purchased multi-million dollar homes. As event coordinator and real estate agent Susan Davis Eley points out, "People spend significant sums of money on apartments. They need something better than a poster or reproduction to grace their walls."
Specializing in emerging artists, Anderson Contemporary is currently exhibiting a group show entitled "Chromatic Convergence," featuring the work of seven artists. The work ranges from large and small scale sculpture to paintings, photographs and digital media.
Founded in 2015 by Ronni Anderson, former partner and director of Mayson Gallery, Anderson Contemporary is the newest FiDi fine arts gallery, representing a diverse groups of visionary artists. Located at 180 Maiden Lane, New York, NY 10038, the gallery is the centerpiece of a vast new public atrium space, which is being heralded as an "Indoor Bryant Park." When entering on South Street, visitors will first notice the larger-than-life sculptures by Eleanora Kupencow, a painter and sculptor who has become a major participant in New York City's public art movement.
For more information, please visit: http://www.andersoncontemporary.com
For press inquiries, please contact Kariley Famer: kari(at)firmoconsulting(dot)com
To request an invitation to Tuesday's event, please contact Susan Davis Eley:
susane(at)nestseekers(dot)com