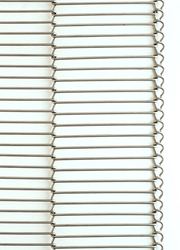 "This belt is far easier to clean and sanitize in a production setting than plastic belting and offers a higher ROI for plants utilizing commodity metal belts." Barry Voshell, Director of Market Business Development
Cambridge, Maryland (PRWEB) January 19, 2016
Following successful debuts of its DuraFlex Edge® and SLATrak conveyor belts at recent International Production & Processing Expos, Cambridge Engineered Solutions returns to IPPE 2016 -- January 26-28 in Atlanta -- to introduce its newest product: DuraHinge Safety Edge.
The new state-of-the-art, flex-style metal conveyor belt is fabricated with reinforced edge technology to prevent snagging. DuraHinge Safety Edge improves employee safety and food handling sanitation in processing environments, particularly those in the meat and poultry industries.
The belt, a new and improved model of Cambridge's DuraHinge® line, has a fully secured edge that allows for tight transfers in the plant. Each end loop sweeps back around to the adjacent end loop to prevent catching while maintaining enough openness for easy splicing. The belt's outside loop dimensions match industry standards allowing it to be a universal fit for all conveyors.
"Our goal with Safety Edge is to offer a better-quality conveyor belt that removes concerns about foreign matter being transferred to food products during processing – ultimately, reaching consumers – while simultaneously creating a safer belt for employees working on the line," said Barry Voshell, Director of Market Business Development. "This belt is far easier to clean and sanitize in a production setting than plastic belting and offers a higher ROI for plants utilizing commodity metal belts."
Cambridge will debut DuraHinge Safety on a working conveyor at Booth B7611 on Tuesday, Jan. 25 at 10:30 a.m. with subsequent demonstrations slated at 10 a.m. and 3 p.m. each day of the expo.
Orders made during IPPE to replace plastic belting with DuraHinge Safety Edge will receive a 10 percent discount and free shipping.
Also at IPPE, Cambridge will host "Metal Matters," a series of programs to increase awareness of safety and sanitation issues in food processing resulting from new FSIS/USDA antimicrobial guidelines.
About Cambridge Engineered Solutions
A division of Cambridge International, Cambridge is the world's largest metal conveyor belt manufacturer and a global leader in filtration screens. For more than a century, Cambridge has developed dynamic solutions, revolutionizing industry automation and plant operations. With more than 15 exclusive product lines and over 50 patents, our team of dedicated engineers and experts continually devise new methods to make lines run smoother, faster and handle more product weight. For information visit http://www.cambridge-es.com.
###