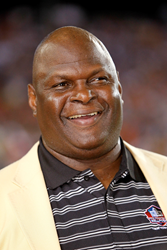 "I'm very proud to be inducted into the Hall of Fame, and I'm happy to have my place at another East-West Shrine Game."
St. Petersburg, Fla. (PRWEB) January 20, 2016
The East-West Shrine Game will induct Rickey Jackson and Chris Chandler into its Hall of Fame during a ceremony for the January 23 contest. The career paths of the former NFL stars aren't exactly similar. Chandler started at quarterback for eight different teams. Jackson's jersey now hangs above the home field of the New Orleans Saints—his team for 13 years. However, they do have something in common. Each capped off outstanding college careers in an East West Shrine Game.
Interestingly, when the two men left high school, journeyman Chandler stayed close to home and it was Jackson who elected to travel. In 1984, Chandler chose to attend the University of Washington in Seattle which was only about 30 minutes away from his high school in Everett. Jackson, on the other hand, left Pahokee, Florida to play college ball out-of-state for the University of Pittsburgh in 1977.
During his four years as a Washington Husky, Chandler arguably had his best season as a junior. That year he passed for 2,193 yards, completing 180 of 318 passes with 20 touchdowns versus 15 interceptions. His senior year, he completed 143 of 279 passes for 1,973 yards with 11 touchdowns and 14 interceptions. However, Chandler wrapped up his college career as an All-Star selection to the both the Senior Bowl and the East-West Shrine Game. Those performances helped earn the quarterback a third-round NFL Draft selection by the Indianapolis Colts.
During the next 17 years, Chandler never found what one could call a longtime NFL home. In addition to two years with the Colts, he spent seasons with the: Tampa Bay Buccaneers (1990 – 1991); Phoenix Cardinals (1991–1993); Los Angeles Rams (1994); Houston Oilers (1995–1996); Atlanta Falcons (1997 – 2001); Chicago Bears (2002–2003); and St. Louis Rams (2004). Yet it should be noted that Chandler's talent was recognized anywhere he went, and at some point he started games for every team.
Success did finally come for Chandler in Atlanta. In 1998, he led the Falcons to a 14 – 2 regular season record and the franchise's only Super Bowl appearance. That year, Chandler's 9.65 yards per pass attempt was the best mark recorded by any NFL quarterback in more than four decades, and helped earn him the first of two NFL Pro Bowl appearances. Chandler retired from the NFL in 2005 having passed for 28,484 yards on 2,328 completions out of 4,005 attempts (58.1%) with 170 touchdowns and 146 interceptions.
As upperclassman at Washington, Chandler may have been dreaming what it would be like to face defensive players like his fellow 2016 Hall of Fame inductee, Rickey Jackson. For it was in 1986 and 1987 that the New Orleans Saint linebacker was being named as a First Team NFL All Pro.
When Jackson was drafted in the second round of the 1981 NFL draft by the Saints, he already possessed an impressive college résumé. He had been named to the All Big-East Second Team and an honorable mention to the AP All America Team as a junior. He then improved on those honors by making the Big East's First Team and being selected as a Second Team All-American his senior year. Additionally, his performance during the 1981 East West Shrine Game earned Jackson the contest's Defensive MVP Award.
In the NFL, Jackson was named to six Pro Bowls and was First Team All Pro in 1986, 1987, 1992, and 1993, and Second Team All Pro in 1984, and 1985—all with the Saints. In 1994, the star linebacker went to San Francisco and helped the 49ers win Super Bowl XXIX. He retired following the 1995 season. Statistics from his 15-year NFL career include 1,173 tackles, 128 sacks, eight interceptions and 29 fumble recoveries. Jackson was inducted into the NFL Hall of Fame in 2010.
Upon learning of his upcoming induction into the East-West Shrine Game Hall of Fame, Chandler said, "As recognition of my football career, I appreciate this honor very much. But even more gratifying to me, is that induction permanently associates me with the Shriners Hospitals for Children and all the great work that institution does."
Jackson agreed. "Shriners Hospitals for Children has been making important difference in the lives of a lot of kids for a long time. Supporting that cause when I played in the game was a great experience. I'm very proud of this honor, and I'm happy to have my place at another East-West Shrine Game."
About the East-West Shrine Game
Originating in 1925, the East-West Shrine Game is the longest-running college all-star football game in the country and features some of the highest-rated players in the projected NFL draft ranking. While the teams are divided by East and West, the players come together for the beneficiary of the event, Shriners Hospitals for Children. Learn more at http://www.shrinegame.com.
About Shriners Hospitals for Children
Shriners Hospitals for Children is changing lives every day through innovative pediatric specialty care, world-class research and outstanding medical education. The 22 hospitals in the United States, Canada and Mexico provide advanced care for children with orthopedic conditions, burns, spinal cord injuries, and cleft lip and palate.
Shriners Hospitals for Children is a 501(c)(3) nonprofit organization and relies on the generosity of donors. All donations are tax deductible to the fullest extent permitted by law. To learn more about Shriners Hospitals for Children, please visit http://www.shrinershospitalsforchildren.org.