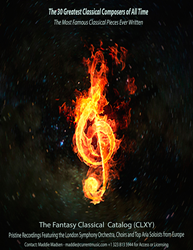 highlights the most famous Classical pieces ever written
Los Angeles, CA (PRWEB) January 20, 2016
Current Music now represents Fantasy Music's Classical Collection for licensing in the US and Canada. The catalog highlights the most famous Classical pieces ever written by 30 of the greatest Classical composers of all time.
Aside from simple solo piano pieces, beautifully recorded Classical music has always been a challenge to come by for affordable licensing. First you would need to find highly skilled players who can tackle performing Mozart, Beethoven and Rachmaninoff who are some of the most complex Composers who ever lived! Some of these works also require up to 120 piece Orchestras. Secondly, you need to gather up well rehearsed Choirs and trained Classical singers who can take on beautifully intricate Choral works or sing heartfelt Operas. You also need to find virtuoso musicians to play some of the most difficult pieces ever written for instruments like cello, violin and trumpet. Then you need to book recording studios that can accommodate these ensembles, as well as hire recording engineers who are trained in this specialized style of music. Fantasy Production Music in London has done just that.
Over the past decade or so, Fantasy's Creative Director, Ossi Bashiri, set out to capture recordings of the most famous Classical pieces ever written, by the greatest Classical composers of all time. Recordings in the collection include works by Beethoven, Bach, Mozart, Wagner, Hayden, Brahms, Schubert, Tchaikovsky, Handel, Strauss Jr., Strauss Sr., Schumann, Chopin, Mendelssohn, Debussy, Vivaldi, Verdi, Dvorak, Massenet, Donizetti, Gounod, Franck, Allegri, Palestrina, Purcell, Denza, Offenbach, Delibes, Puccini, Bizet, Berlioz, Faure, Grieg, Saint-Saens, Rossini, Borodin, Holst, Rimsky-Korsakov, Rachmaninoff, Respighi, Ravel and Orff. Almost 1,000 works can now be found at http://search.currentmusic.com where clients can type in the name of a song or a descriptive word, listen, make a playlist and download high quality WAV, AIFF and MP3 files. The company also provides music research experts at no additional cost.
About Current Music
Maddie Madsen, CEO, and Christian Salyer, CCO, have over 40 years of combined experience building music brands for Universal, Warner Chappell, Blazed Out Music and Imagem. After producing over 300 albums of production music, they launched Current Music in 2013. The company has scored TV series, national commercials, TV theme songs and penned pop songs for artists. Current Music also created all of the sonic branding for the multi-platform service RADIUS. Clients include Toyota, Wendy's, KFC, Dr. Pepper, Unilever, The Lakers, Disney Channel, Disney XD, Comcast, NBC, NBC Sports, CBS, The CW, ABC, Fox, Fox Sports, Showtime and Golf Channel. Find out more at http://www.currentmusic.com
Media Contact:
Maddie Madsen
+323 813 5944
Maddie@currentmusic.com
http://www.currentmusic.com