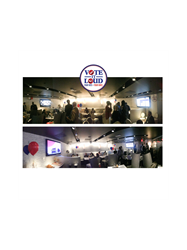 (PRWEB) January 19, 2016
During Sunday's Democratic presidential debate on January 17, 2016, 4US2WIN and Vote it Loud hosted viewing parties with onsite polling and focus groups for an array of minority voters in 10 key battleground cities. Attendees included a cross section of local Blacks, Hispanics and Asian professionals along with political and entertainment influencers. Engaging this demographic and ascertaining their views toward the upcoming elections is critical because the data show and experts agree that they will be pivotal in deciding the outcome of the 2016 elections. In addition, our polling shows that people of color are feeling empowered and that candidates would be well served to show greater awareness and provide more specifics on how they will address the critical issues impacting the minority community.
Key discoveries from the polling and focus groups include the following:

This group is most concerned about the economy and employment followed by police brutality and economic inequality.
Only 80% of this group indicated that they plan to vote for a Democratic candidate, 20% indicated that they were still unsure.
20% indicated that they would vote for a Republican candidate if their preferred Democratic candidate did not receive the nomination.
Bernard Sanders was slightly favored over Hillary Clinton as the Democratic candidate most likely to champion the issues most important to them.
These results are consistent with baseline polling and focus groups 4us2Win commissioned in June of 2015. The complete June poll results and analysis memo can be viewed at http://www.voteitloud.com.
Who - 4US2WIN and Vote It Loud a 501(c)(3) non-profit established to promote greater and more strategic civic engagement by people of color.
What - hosted viewing parties in 10 battleground cities on Sunday, January 17, 2016 during the Democratic Debate with the specific goal of gathering immediate reaction of this key constituency that will play a major role in deciding 2016 election outcomes.
Where - Arlington, VA; Charlotte, NC; Cleveland, OH; Denver, CO; Jacksonville, FL; Las Vegas, NV; Miami, FL; Philadelphia, PA; and Richmond, VA.
Press Contact: D. Morgan 202-306-3075: dmorg1470(at) gmail.com