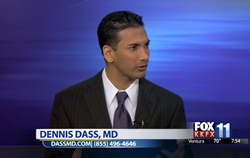 Beverly Hills, CA (PRWEB) January 19, 2016
Plastic surgeon Dr. Dennis Dass is providing gift certificates good for a complimentary PicoSure laser facial treatment or a PicoSure laser tattoo removal session to be included in gift bags given to celebrity guests of Khloé Kardashian's new TV show "Kocktails With Khloé".
Kocktails With Khloé premieres on Wednesday, Jan. 20 on the FYI Network. The set of Kocktails with Khloé will feature a functional kitchen, dining area and living spaces. Every week, celebrity guests and friends will join Khloe in the "kitchen and around the table for an intimate dinner party filled with cooking, pop culture, conversation and outrageously fun party games," reports People Magazine.
"I believe Khloe's guests and viewers will be interested in learning about the latest treatments to look their absolute best, and a few may even have a tattoo that they'd like to get rid of," says Dr. Dass.
PicoSure laser skin rejuvenation is a quick and easy non-surgical, non-invasive skin treatment for those seeking a more youthful appearance. PicoSure can be used to treat many areas of the body including the face, hands, arms, chest and legs.
PicoSure offers a gentler treatment with less downtime. In the past, lasers have relied on intense heat energy to remove pigment from the skin, which may be painful and lead to significant skin redness and downtime. Instead, Picosure applies "PressureWave" technology which utilizes light pulses instead of heat. With the use of light pulses, the surrounding areas of the skin being treated are prevented from being damaged. This makes PicoSure more effective in breaking down skin pigmentation and promoting collagen production for skin rejuvenation. PressureWave technology transmits laser pulses lasting one trillionth of a second deep below the surface of the skin to target problem areas. 
PicoSure laser skin rejuvenation can reduce or even eliminate the appearance of acne scars and the inflammation of active acne. PicoSure is effective for sun damaged, spotted or aging skin the treatment can stimulate collagen remodeling. to reduce facial lines and wrinkles.
Dr. Dass says the PIcoSure laser is also more effective and faster for erasing unwanted tattoos including those that contain red, orange and yellow ink. "Until now, these colors have been the most difficult to eradicate, but thanks to a new 'dual wavelength' PicoSure laser upgrade we can erase all ink colors. PicoSure delivers ultra-short bursts of laser energy that literally shatters the ink used in tattoos."
"While we can't go back in time, tattoos that no longer fit a person's tastes or lifestyle can be quickly erased with PicoSure," says Dr. Dass. "Other tattoo removal treatments require as many as 20 sessions or more to diminish a tattoo's appearance. However, in most cases PicoSure can erase tattoos in just six treatment sessions, no matter which color inks were used. This is a major advantage that will finally allow anyone to start fresh without leaving traces of an unwanted tattoo. PicoSure dual wavelength with Boost can be used for especially resistant tattoos."
Visit http://www.DassMD.com  and call (855) 496-4646 for more information.