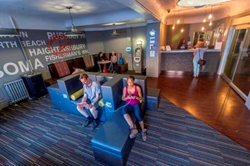 "The key to what makes us so popular is that our hostels are managed by travelers for travelers." David Reuter, president.
San Francisco, California, United States (PRWEB) January 20, 2016
Two USA Hostels' locations were named as winners of the Hostelworld.com 2016 HOSCAR for Most Popular Hostel in their respective cities. Awarded were USA Hostels Hollywood, for which this is the fifth consecutive win for Los Angeles, and USA Hostels San Francisco, which has earned this award for the fourth year in a row.
Hostelworld.com's HOSCAR awards recognize the best hostels around the world as rated by over 1 million customers in 2015. Approximately 500 hostels in the United States and 30,000 hostels worldwide are listed on Hostelworld.com.
"To win Most Popular Hostel once is exciting, to keep winning it year after year is really gratifying, as it shows how hard our staff work to ensure our guests are having a good time and a great stay with us," said David Reuter, founder and president of USA Hostels. "Winning for both Los Angeles and San Francisco shows that we're providing the same friendly staff, amenities guests love, and especially memorable experiences, no matter the location. Had San Diego been one of the cities in Hostelworld's award list, I'm sure we would have excelled there as well."
"We take guest reviews seriously and continually tailor our hostels to meet customer demands. Today's customer wants more than a modern and clean venue; they want their hostel stay to be part of the greater holiday experience." He continued, "We help guests have great memories of their visits to our cities by providing daily hostel-run activities like city walks, comedy shows, karaoke battles and coastal bike rides. Guests want to get out and explore and then have a fun time back at the hostel later. We excel in satisfying both these desires."
In 2015, USA Hostels' expanded their chain with a second San Diego location at Ocean Beach. It has quickly risen in stature on booking sites, currently ranked the #1 San Diego hostel on both Booking.com and Hostelworld.com. This seaside hostel is just 2 blocks to beach in the heart Ocean Beach's tourist district. In addition to the exclusive USA Hostels amenity of 'privacy pods' on all dorm beds and daily activity offerings, this hostel also shares a free shuttle service with its sister hostel in downtown San Diego. Stops also include various tourist sites, the airport and the La Jolla shoreline. In addition, this hostel provides guests with all they need for a day at the beach, including beach umbrellas, chairs, mats and even sunscreen. Low cost rentals for surfboards and body boards is also available.
USA Hostels operates high-quality budget accommodations in Hollywood, downtown San Diego, Ocean Beach San Diego and San Francisco. Founded in San Diego in 1994, USA Hostels offers a choice of shared dormitory rooms or private rooms to independent travelers from all over the globe. Each hostel in the chain provides a wide range of activities throughout each week, discounted tickets to area attractions, as well as free breakfast and free WiFi. USA Hostels was named the #1 Hostel Chain in the World by Hostelworld.com customers in 2013.