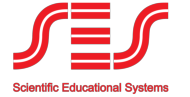 Poole, Dorset (PRWEB UK) 19 January 2016
SES Scientific Educational Systems is a pioneer in the field of technological educational systems.
Developing and producing the best technological products for a wide range of institutions for more than 30 years, SES specialises in the development and production of a wide range of innovative technological products, which include very advanced systems with microcontrollers and sensors.
These products include the renowned K-first, a device that engages children in using all five senses, while developing their cognitive, creativity, and thinking skills, as well as 'The Human Body Kit', and SES's latest product PANDA.
'The Human Body Kit' is a ready to use product which gives users the opportunity to learn about the human body, with the aid of SES sensors. All aspects of the human body are covered, including; ears and hearing, the heart and blood, and nerves and muscles, and the interactive learning style allows students to be more engaged in their education.
PANDA is a science based device that includes nine sensors inside, helping users to explore the worlds of physics, chemistry, and biology, in an appealing and insightful manner.
All of these products will be showcased this month on SES's exhibition stand at the world's leading Education Technology show, BETT.
Occurring every year at London's ExCel, BETT is an opportunity for those in the education sector to experiment with the latest technology, hear advice and guidance from inspirational figures and leading industry experts, and uncover new ways of inspiring learning, from exhibitors and peers from around the world.
SES, who are seasoned veterans of BETT, having exhibited for the past five years, will be showcasing their array of products with the aid of a Prestige Exhibition Stand from the Poole-based exhibition stand experts, Quadrant2Design.
With integrated showcases, flat-screen TVs, and stand-out seamless effect graphics, the SES stand is sure to make a huge impact and attract many visitors amidst the hubbub of a crowded exhibition hall.
To discover more about SES Scientific Educational Services, visit http://www.seseducation.co, or meet the team on stand SN91 at BETT, which takes place from 20th – 23rd January 2016.
To register for BETT 2016, visit http://www.bettshow.com.
For a complimentary design consultation from Quadrant2Design, contact designteam@quadrant2design.com or call 01202 723 500.