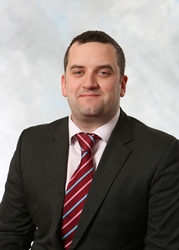 Edinburgh, UK (PRWEB UK) 19 January 2016
As a senior team member within the company since 2010, Scotson has successfully headed the finance division, globally, through a period of accelerated growth and change. Operating as Finance Director, Scotson will now add to his company-wide responsibilities with board-level leadership and the setting of financial strategy.
Prior to joining HotDocs, Scotson qualified as a chartered accountant and held various financial roles across several industries in companies such as Lloyds Bank, international brewing company Scottish & Newcastle and IT service management provider Axios Systems.
Russell Shepherd, CEO of HotDocs, commented: "John brings a wealth of experience to the HotDocs Board. Over the past six years, he has made a significant contribution to the ongoing success of HotDocs and I look forward to working closely with John as we continue to grow our business."
Scotson added: "I am delighted to join the board of HotDocs at a particularly exciting time for the company as we extend our global reach and work on new product innovations. I am looking forward to working closely with the rest of the board and senior management team during 2016 and beyond to successfully deliver on our growth plans and product roadmap."
About HotDocs
HotDocs is the market leading provider of automated document generation software, with customers in 42 different countries and a user-base, globally, that exceeds one million. Automated document generation, or document assembly, allows a vast reduction in time spent in the production of high volume, repeat documentation such as contracts, agreements and other legal paperwork.
Widely used within the legal, banking, insurance, public and corporate sectors, HotDocs software also increases accuracy, reduces cost/risk and improves efficiency in the generation of complex, or simple, repeat documentation. The software is available on premise, on desktop or via the cloud and can operate in a standalone capacity or as part of a wider business process management system, such as workflow, document management or case management systems.