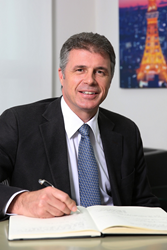 Our collaboration with the CGF will play a major role in allowing LRQA to strengthen our existing food sector credentials
(PRWEB UK) 26 January 2016
Leading professional assurance services organisation LRQA has reached an agreement to become a member of the world's premier consumer goods organisation, the Consumer Goods Forum (CGF). The CGF, a global, parity-based industry network, driven by its members, brings together consumer goods manufacturers and retailers in pursuit of business practices for efficiency and positive change benefiting shoppers, consumers and the world.
As a global member of the CGF, LRQA has taken another significant step in extending its food services portfolio beyond food safety and is building on the strength of their existing relationship with the CGF's Global Food Safety Initiative (GFSI) to extend their reach across the food sector as a whole.
Whilst food still accounts for over 50% of all consumer goods sold, services for the CGF's three other pillars of key focus - specifically health & wellness, supply chain sustainability and end-to-end value chain - are becoming increasingly prevalent. LRQA has long been associated with the CGF through the Global Food Safety Initiative (GFSI), including being a Diamond Sponsor at the GFSI's annual Global Food Safety Conference from 2010-2015. The GFSI, the world's leading food safety organisation, is facilitated by the CGF.
"Our collaboration with the CGF will play a major role in allowing LRQA to strengthen our existing food sector credentials," said John Rowley, Managing Director, LRQA & LR Inspection Services. "We will achieve this by delivering a broader range of services against all four pillars of focus for the CGF - services that LRQA has been delivering into other sectors for many years - to a global audience of industry leaders."
One of the primary objectives of the CGF is to create a collaborative network through corporate membership of retailers, manufacturers and service providers, in order to share best practice and identify areas where collective, measurable action is required. Commenting on this announcement, Peter Freedman, Managing Director of The CGF said "We are delighted to welcome LRQA as a member of The Consumer Goods Forum. They are an important player in the consumer industry and have been strong supporters of the CGF's Global Food Safety Conference for many years. We now look forward to deepening and broadening our collaboration in pursuit of building consumer trust in our industry".
"LRQA is well known within the food safety arena for our technical expertise, excellent client relationships and deep sector-specific insight," said Vincent Doumeizel, LRQA Strategic Marketing Manager Food & Beverage. "With over 5000 food sector clients – from the world's best known brands, to some of the smallest suppliers in emerging markets – our membership of the CGF highlights LRQA's commitment to the ongoing delivery of best in class assurance services worldwide."
LRQA will be exhibiting at the 2016 GFSI Food Safety Conference being held in Berlin, February 29 through to March 3 2016. Further, LRQA will be represented by both John Rowley and Vincent Doumeizel at the upcoming 60th CGF Global Summit, being held in Cape Town, South Africa, June 15-17, 2016.
Ends
Notes to editors
About LR Management Systems (LRQA)
LRQA is a member of the Lloyd's Register group. LRQA is a leading independent provider of professional assurance services including assessment, certification, validation, verification and training across a broad spectrum of standards, schemes and customised assurance programmes. LRQA unlocks the power of management systems to improve organisational performance and reduce risk.
About Lloyd's Register (LR)
Lloyd's Register (LR) is a global engineering, technical and business services organisation wholly owned by the Lloyd's Register Foundation, a UK charity dedicated to research and education in science and engineering. Founded in 1760 as a marine classification society, LR now operates across many industry sectors, with over 9,000 employees in 78 countries.
Lloyd's Register has a long-standing reputation for integrity, impartiality and technical excellence. Our compliance, risk and technical consultancy services give clients confidence that their assets and businesses are safe, sustainable and dependable. Through its global technology centres and research network, Lloyd's Register is at the forefront of understanding the application of new science and technology to future-proof its clients' businesses.
About The Consumer Goods Forum
The Consumer Goods Forum ("CGF") is a global, parity-based industry network that is driven by its members to encourage the global adoption of practices and standards that serves the consumer goods industry worldwide. It brings together the CEOs and senior management of some 400 retailers, manufacturers, service providers, and other stakeholders across 70 countries, and it reflects the diversity of the industry in geography, size, product category and format. Its member companies have combined sales of EUR 2.5 trillion and directly employ nearly 10 million people, with a further 90 million related jobs estimated along the value chain. It is governed by its Board of Directors, which comprises 50 manufacturer and retailer CEOs.