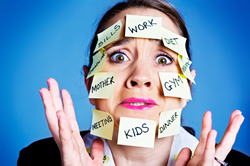 "The only way workplace stress is going to be properly addressed is if senior management commits to learning and listening to the heart and soul of their organizations, their employees." says Robert gray, President of Insightlink
Palm Springs, CA (PRWEB) January 21, 2016
The proportion of U.S. employees with more work than they can handle has increased steadily since Insightlink began conducting employee surveys over 15 years ago. This finding aligns with public health concerns that stress is becoming a workplace epidemic. Anxiety, exhaustion, burnout and fear of losing their jobs are reported with increasing frequency in Insightlink's employee research. And not to forget that there is a clear correlation between high stress levels in employees and increased absenteeism, reduced productivity, higher levels of disengagement and excessive turnover.
With employee engagement levels not showing any improvement despite the attention this topic is getting, employers really have to assess what action they are taking to address, manage and reduce the amount of work they expect their employees to manage and the amount of stress they are feeling.
Based on research conducted in November 2015, the Annual Survey of the American Workplace reveals that:

One-in-four employees continually have more work than they can finish, up from 20% in 2007,
Seven-in-ten find their work stressful and One-in-three strongly find it extremely stressful and
Only one-in-four strongly agree that they are able to find a satisfactory balance between personal/family obligations and career responsibilities even though this is important to almost all employees.
To be successful, employers must commit to changing to working conditions that are creating this stress in the first place. As Insightlink President Robert Gray says, "The only way workplace stress is going to be properly addressed is if senior management commits to learning and listening to the heart and soul of their organizations, their employees. There has to be a sense that employees are getting as much back as they are giving to their workplaces before organizations can begin to reduce the amount of stress employees feel in their jobs."
For more information about Insightlink's Annual Survey of the American Workplace, please contact Lynn Gore at lgore(at)insightlink(dot)com or call 866-802-8095 ext. 705.
-----------------------------------------------------------------------------------
About Insightlink Communications
Insightlink Communications is a leader in full service employee surveys and offers a range of employee survey products and services to fit their client's needs. With over 15 years of experience, Insightlink's reputation has been built on giving organizations the knowledge they need to create effective change using their acclaimed employee research, analytics, benchmarking and survey methodologies.