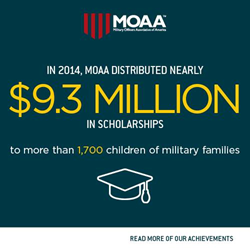 Alexandria, Va. (PRWEB) January 19, 2016
The deadline for the Military Officers Association of America (MOAA) Scholarship Fund's online application for the 2016-17 school year is noon EST Tuesday, March 1, 2016. Students can apply at http://www.moaa.org/education for interest-free loans and grants, which are awarded annually for up to five years of undergraduate study (or until a student graduates).
In 2015, the MOAA Scholarship Fund distributed nearly $9.3 million in grants and interest-free loans to more than 1,700 military families.
Eligibility guidelines include:

Students under age 24 who are children of former, currently serving or retired commissioned or warrant officers and children of currently serving or retired enlisted military personnel are eligible to apply. Active duty, National Guard, Reserve, retired and former commissioned officers and warrant officers of the seven uniformed services are eligible for MOAA membership.
Graduating high school seniors or full-time college students working toward their first undergraduate degree. If a child served in a uniformed service before completing college, however, the maximum age for eligibility will be increased by the number of years he or she served, up to five years.
Qualified students with a GPA of 3.0 or higher on a 4.0 scale are considered for selection based on their scholastic ability and participation in extracurricular and community activities, as well as financial need.
The MOAA Scholarship Fund has provided educational assistance for children of military families for nearly 70 years. Students may apply online at http://www.moaa.org/education .
For more information on educational assistance or making a contribution to the MOAA Scholarship Fund, please visit http://www.moaa.org/scholarshipfund or email edassist(at)moaa(dot)org.
-End-
About MOAA:
Military Officers Association of America (MOAA) is the nation's largest and most influential association of military officers. With more than 390,000 members — active duty, former, retired, and National Guard and Reserve officers from all seven uniformed services and their spouses and surviving spouses — it is a powerful force speaking for a strong national defense and represents the interests of military officers and their families at every stage of their careers. For those who are not eligible to join MOAA, Voices for America's Troops is a nonprofit MOAA affiliate that supports a strong national defense. For more information, visit http://www.moaa.org.