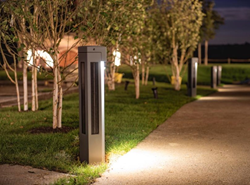 (PRWEB UK) 22 January 2016
Fourteen solispost solar powered lighting bollards have been installed at Saint Hill Manor, East Grinstead, East Sussex lighting the pathway from the car park to the main building. The solispost bollards were specified by landscape architects, Enplan as part of improvements to the grounds at Saint Hill.
Minimal disturbance was caused during installation at the fine 18th century building. Needing no connection to the grid or a generator, the solar powered solisposts required only the installation of a sub-surface baseplate.
As well as providing excellent illumination levels, solispost illuminated bollards minimise light pollution by providing two levels of illumination. A lower level of illumination is maintained continuously from dusk till dawn which is increased when the solispost automatically detects someone approaching. As the pedestrian walks along the pathway, each solispost increases its light level providing a moving pool of light.
Solispost offers a very attractive overall cost of ownership. With no trenching required, supply and installation costs are typically at least 25% lower than for conventional bollards. Once installed, there are no energy or running costs and no carbon footprint providing ongoing cost and environmental benefits. Maintenance requirements are minimal with just an annual wipe clean of the solar panels. Solispost bollards carry a two year guarantee with an expected lifetime in excess of 10 years.