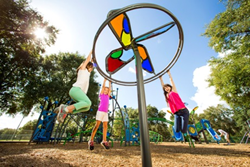 This kind of sensory-rich experience is a tinderbox for igniting a child's imagination.
Fort Payne, AL (PRWEB) January 19, 2016
GameTime, a leading manufacturer of commercial playground equipment, outdoor fitness equipment and custom play spaces, recently released two new ShadowPlay® playground products. ShadowPlay® products from GameTime utilize acrylic panels to capture the sunlight and cast color shadows along the ground. The result is a unique visual experience that promotes educational exploration, as well as imaginative discovery.
ShadowPlay SkyRunner® is an update to GameTime's wildly popular SkyRunner line. Users grasp the overhead rails, run, and then lift their legs as they fly up and around the center post. SkyRunner provides a fun, upper body fitness activity. With the addition of ShadowPlay panels, it adds a creative play element, as well. Even children who aren't using SkyRunner can enjoy the colorful shadows that spin along the ground, creating a sensory-rich play environment.
ShadowPlay SkyFlower® is available as a freestanding play activity or as part of a play system. Both include an accessible handle that allows children of all abilities to rotate the acrylic "flower petals" above, casting colors along the ground. As the position of the sun changes throughout the day, so does the position of the shadows. The freestanding SkyFlower features a turn handle at ground level. The play system component is attached to GameTime's exclusive ADA Hex Deck, which allows people in a mobility device to access SkyFlower alongside their peers.
Sheryl Smyth, Ed. S., is a literacy coach with over 30 years experience in childhood education. She believes ShadowPlay activities have the potential to unlock a child's imagination. "There's a real crisis of imagination among young children," says Smyth. "Students today seldom engage in activities that promote sensory integration. These ShadowPlay activities allow children to be active, to learn about light and shadow, and to physically manipulate the colors that appear on the ground. This kind of sensory-rich experience is a tinderbox for igniting a child's imagination."
ShadowPlay Sky Runner and ShadowPlay Sky Flower are featured in the 2016 GameTime Catalog and are available now at gametime.com.
About GameTime
GameTime is a leading manufacturer of commercial playgrounds, custom play spaces and outdoor fitness equipment. Headquartered in Fort Payne, Alabama, and with distribution around the world, GameTime has been dedicated to enriching childhood through play since our founding in 1929. Our products combine play research with thoughtful design to create playgrounds for children of all abilities. We bring together the right corporate, civic and nonprofit partners to build healthy, active communities that make the world a better place for children and families.