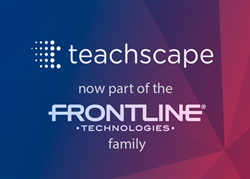 We will become the leader in professional growth solutions for K-12 education by integrating best-in-class software and resources.
Malvern, PA (PRWEB) January 19, 2016
Frontline Technologies, a leader in K-12 education software, has acquired Teachscape, Inc. Teachscape provides professional growth solutions for K-12 and higher education. The acquisition adds further expertise in observation training and assessment, evaluation management, comprehensive learning systems and video-based learning tools for educators to Frontline's expanding education technology portfolio.
"Our goal is to build the broadest-reaching set of solutions to serve the education community, and professional growth will play a substantial role in that," said Frontline President and CEO Tim Clifford. "We will become the leader in professional growth solutions for K-12 education by integrating best-in-class software and resources."
Frontline Technologies continues to build upon a foundation of professional development resources that began with the acquisition of industry leader MyLearningPlan. The MyLearningPlan solution set includes professional growth management, evaluation, custom learning modules and the ability to assess impact to student outcomes. Teachscape's products, which are designed to support the development of instructional practice throughout an educator's career, were developed in partnership with educators and industry experts.
Frontline Technologies will leverage Teachscape's professional growth industry and instructional practice knowledge as well as their unique understanding of and experience with the 2011 and 2013 versions of Charlotte Danielson's Framework for Teaching to improve solution development and portfolio breadth.
Frontline Technologies also maintains a solid partnership with Stronge & Associates, an educational consulting company that focuses on teacher and leader effectiveness. While Frontline remains rubric agnostic, the ability to offer multiple framework options, including Charlotte Danielson's Framework for Teaching, is a definite advantage for Frontline Technologies customers.
With the addition of Teachscape's customer base, Frontline Technologies will provide professional growth and human resources software to more than 7,000 school districts nationwide. Frontline's strong and rapidly-growing market position is coupled with premier client services and support, featuring a customer retention rate of over 97% across all products. This ensures that Teachscape's existing customers will receive premium support from the Frontline client services team.
###
About Frontline Technologies: Frontline Technologies provides cloud-based K-12 software that empowers over 7,000 school districts and millions of educators to positively impact student learning. From recruiting, hiring and absence management, to professional learning and evaluation, Frontline partners with the education community to support the entire educator lifecycle. Built on a foundation of best practices, Frontline gives organizations the tools to focus on data-driven decisions, collaboration, meaningful growth and application to classroom practice. Frontline Technologies corporate headquarters are located in Malvern, Pennsylvania, with offices in New York and Chicago.