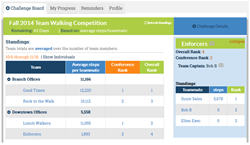 Given Fitbit's reputation as being one of the best wearable fitness trackers on the market, we at DE believe this offering brings whole new key dimension to our clients at an affordable price. Jeff Mann, Co-founder, DailyEndorphin
Minneapolis, MN (PRWEB) February 09, 2016
DailyEndorphin is pleased to announce the launch of a key new feature that allows challenge participants who wear any Fitbit wearable fitness tracker to sync real-time with your DE user accounts while registered in one of our steps challenges.
This key new feature combines the power and administrative control of DailyEndorphin team exercise challenges or individual-based wellness challenges with the convenience of the Fitbit by encouraging friends and colleagues to easily sync up your device's data with your DailyEndorphin account.
How does it work?
Simply wear your device, periodically open your Fitbit app and your daily steps data will automatically upload real-time into your DE user dashboard and challenge leaderboard standings page. No more manual self-reported entries required!
For a limited time there will be no pricing changes for this key feature addition. Go to our Fitbit challenges page for more information on how to get started in just a few minutes! This Fitbit integration easily incorporates verifiable data into your corporate fitness and wellness program. Effortlessly incorporate a company walking challenge into your wellness program.
Sometime in late Q1 2016, DailyEndorphin will be integrating with scores of other popular health wearables, fitness apps and additional DE fitness challenges, including active minutes, distance, points, and stairs climbed. More details coming soon.
About DailyEndorphin
DailyEndorphin enables anyone in groups of any size and type to easily set up friendly, configurable, highly affordable "DIY" wellness challenges and programs based on recommended physical activity and healthy objectives. DailyEndorphin provides an interactive way to motivate and engage its users in healthy behaviors leveraging group dynamics, competitions, and goal-setting. DailyEndorphin enables organizers to easily set up manage and promote customizable fitness, weight loss, nutrition, and wellness challenge events and offers back-end reporting and administrative control.
DailyEndorphin's mission is to enable people to live a healthier, happier life in the context of supportive social networks. DailyEndorphin works with groups of all sizes, including employers, health plans, wellness consultants, employee benefits brokers, health clinics, government entities, friends, families, and communities.
Go to DailyEndorphin's home page at http://www.dailyendorphin.com to get more information about their programs.
DailyEndorphin – An interactive website that offers creative, affordable, configurable, "DIY" fitness & wellness challenges and programs that facilitate group exercise and wellness challenges.