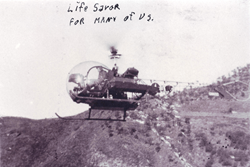 Dallas, TX (PRWEB) January 19, 2016
On New Years' Day 2016, America lost one of its iconic TV stars and one who helped portray the realities of the Korean War. The news of the death of actor and Golden Globe nominee Wayne Rogers, who played comical surgeon "Trapper John" Macintyre in the hit TV series MASH, swept the country. In his Military Writers Society of America Gold Medal Award-winning book, George-3-7th: A Brief Glimpse through Time of a Group of Young Marines, author Jim Nicholson, MD, writes often about the realities of the "Forgotten War" and depicts the true MASH units as the "life savers" that they were to him and the many injured during the war. He also sees many similarities in the characters, including Rogers' role, with those of MASH personnel he encountered during his own war injuries.
"Just like everyone else at the time, MASH was one of my favorite shows and I watched consummate actor Wayne Rogers in the MASH program each week, but with a different eye for authenticity because I had experienced MASH units first-hand in Korea," says Nicholson. "That opening scene of every episode where a helicopter lands amidst tents and 'litter-bearers' rush out to retrieve the wounded, never failed to give me a shiver of déjà vu. It was real all over again for me."
Nicholson's book offers rare insight into the Marines who banded together during the Korean War and how they often searched for any semblance of home. Nicholson and his band of brothers did their part to stop what would likely have been the worldwide spread of Communism in Korea (1950-1953).
"When watching MASH, I noticed that props, scenery, and comforting, comical dialogue of the actors was very much like what I experienced when a MASH unit had to perform surgery on me during the war," says Nicholson. "We were taking very heavy casualties, and my platoon members were being dragged out under very difficult circumstances with heavy fire and almost impossible terrain. From the moment we were handed over to MASH personnel, we were engulfed in their relaxed, cheerful self-confidence. Almost just like the show."
Despite having a higher rate of men wounded in action than the army, the marines had a much lower incidence of men killed in action. "This was because we had pioneered the system for shortened time between the battlefield and the operating room…even if the operating room was in a rice paddy," says Nicholson. Through it all, Nicholson found time to capture his experiences through photographs, later scrawling handwritten memories across many of them—including one of those lifesaving MASH helicopters.
After leaving MASH following its third season, Rogers became a highly successful businessman, reinventing himself. Nicholson survived the Korean War and before becoming an author, became a physician, delivering more than 2,000 babies in his career.
"Across the span of many years, many patients have told me that this is how they remembered me when they came through the swinging doors into the emergency room, and I think I must have picked a lot of that up from the compassionate, caring MASH personnel of the Korean War," says Nicholson.
About Brown Books Publishing Group (BBPG)
Founded by Milli Brown in 1994, Brown Books Publishing Group is a full-service, independent publisher of high-quality books across all genres, from nonfiction to fiction. Committed to producing award-winning books for authors who choose to retain the rights to their intellectual property, Brown Books publishes more than one hundred titles a year and has won numerous prestigious awards, including the Writer's Digest Grand Prize, Mom's Choice Award, Foreword Book of the Year, Gold Ink Award, Axiom Business Book Award and many more. Brown Books authors have appeared on programs and channels such as the "Today" show, Fox News, "Face the Nation," CNN and BBC News. They have been featured in publications such as USA Today, Publishers Weekly, and The New York Times. In addition, BBPG authors have been guests on NPR programming, including "The Diane Rehm Show," "Morning Edition," "The Takeaway" and "Tell Me More." To learn more, visit http://www.BrownBooks.com.
About The Agency at Brown Books (ABB)
The Agency at Brown Books is a full-service public relations, marketing and branding firm within a publishing house. As a subsidiary of Brown Books Publishing Group, The Agency is backed by 20 years of excellence and experience, and the one-of-a-kind, integrated platform is available to Brown Books' authors as well as to non-affiliated authors, established writers, entrepreneurs, CEOs and anyone seeking smarter strategies for building their business. For more information, visit http://www.TheAgencyAtBB.com.
CONTACT: For interviews or questions, please contact Vicki Morgan Vicki.Morgan(at)TheAgencyatBB.com or Alicia Auping Alicia.Auping(at)TheAgencyatBB.com with the Agency at Brown Books 972.248.9500.
More information can be found about the book at http://www.George3-7Marines.com