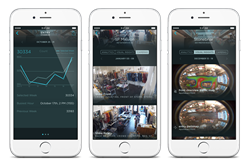 "The Insights app creates value from video that can be applied across the entire retail organization" said Steve Russell, Founder and CEO at Prism. "Whether you work in merchandising and need to evaluate a new product launch, or are on the loss prevention
San Francisco, CA (PRWEB) January 20, 2016
Today Prism announced the launch of its newest mobile application, Insights, a tool for retailers to access real-time data about store performance, as well as visual access, which provides low-bandwidth imagery from store cameras, directly to users' iOS and Android devices. In tandem with the new mobile application, Prism is also rolling out Custom Reports, which are comprehensive self-service reporting capabilities, alongside the ability to integrate external data streams into dashboards and reporting.
"The Insights app creates value from video that can be applied across the entire retail organization" said Steve Russell, Founder and CEO at Prism. "Whether you work in merchandising and need to evaluate a new product launch, or are on the loss prevention team and need a lens into the store -- all of this information is immediately accessible."
Prism's video intelligence platform transforms video cameras into cloud-managed visual sensors. Retailers can dissect customer engagement and the efficacy of retail operations with analytic tools like heatmap and pathmap visualizations, as well as metrics like dwell and occupancy. Now with Custom Reports, retailers can merge these visual insights with auxiliary data, like point of sale, staffing and inventory databases to create complex analyses of customer engagement and store performance.
"By combining external data with Prism's video intelligence, retailers have the power to gain individual store insights and aggregate trends on key performance indicators" said Bob Cutting, Prism's co-founder and SVP of Operations. "Combining these metrics with readily available visual summaries within Prism's dashboard gives our retail customers a more robust visual and analytical context of what is going on within their stores."
About Prism
Prism transforms video cameras into IoT tools with remote access and built-in analytics for understanding movement, interaction, and activity in any brick-and-mortar space. Prism has been deployed by over 350 customers in over 80 countries, and has tracked over 1 billion customer paths and interactions.