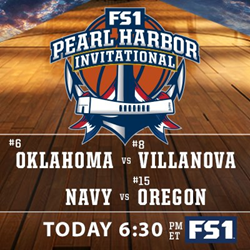 "We retained Michael Rowe and his team to organize and execute every facet necessary for staging Division 1 college basketball games, and they did an outstanding job,"
Cranbury, New Jersey (PRWEB) January 21, 2016
Positive Impact Sports and Entertainment was retained by Fox Sports to produce and organize the FS1 Pearl Harbor Invitational college basketball event.
The games were played to pay tribute to the nation's current military while reminding Americans about the world-altering attack that occurred there almost 75 years ago. The doubleheader featured the Villanova Wildcats against the Oklahoma Sooners and the United States Naval Academy Midshipmen against the Oregon Ducks.
The Events Group of Positive Impact S+E managed all non-broadcast operations for the December 7th NCAA doubleheader held at Bloch Arena located on the Joint Base Pearl Harbor-Hickam. The staff successfully handled building operations; staffing; team management; game operations; ticketing; support structures for broadcast, lighting, sound; marketing support; extensive facility upgrades and both press and media operations.
"We retained Michael Rowe and his team to organize and execute every facet necessary for staging Division 1 college basketball games, and they did an outstanding job," said FOX Sports Executive Vice President Larry Jones. "In addition to the nuts and bolts of running the games, we had to upgrade the facilities at Bloch Arena – a 75 year-old open air facility – and Positive Impact handled it all quite professionally. We look forward to working with them again."
Positive Impact S+E President Michael Rowe stated, "We were proud to be selected by Fox Sports and it was a pleasure to work alongside the extraordinary professionals of the FS1 broadcast team. It was much more than a basketball game, as it celebrated the thousands of men and women that lost their lives 74 years ago in the attack on Pearl Harbor. The event had a number of unique challenges as it was played in a semi-outdoor historic venue. I'm proud that our team met each challenge and delivered a first-class experience for the thousands of attendees, the viewers, the teams, the US Navy and of course our clients at FS1."
About FS1
FS1 is the fastest growing sports cable network in television, reaching over 84 million subscribers, televising 3,800 hours of live programming with 1,900 of those hours being live events in 2016. Launched in August 2013, the national sports network puts fans first with 24/7 coverage of the most compelling sporting events in the world – MLB, NASCAR, UFC, USGA golf, college football and basketball, world-class soccer and more. FS1 is proud to be the home for The Ultimate Fighter in addition to covering live fight cards; college football including Big 12, Pac 12 and Conference USA games; Big East, Big 12, Pac-12 and Conference USA college basketball, including the Big East men's basketball tournament; plus championship USGA golf, including the U.S. Open. FS1 features consistent coverage from the world's most prestigious soccer competitions like the UEFA Champions League, UEFA Europa League and CONCACAF Champions League, as well as coverage of the upcoming FIFA Women's World Cup in 2019 and FIFA Men's World Cup in 2018 and 2022. Coverage of the USWNT's FIFA World Cup victory in June 2015 achieved record ratings for FS1. Studio coverage is anchored by NASCAR RACEHUB, MLB WHIPAROUND, THE HERD WITH COLIN COWHERD, and FOX SPORTS LIVE, the channel's flagship show for news, highlights and analysis airing nightly at 11:00 PM, 12:00 AM and 1:00 AM ET. For more information, visit http://www.foxsports1.com.
About Positive Impact Sports and Entertainment
Positive Impact S+E is a sports and entertainment management company delivering business solutions to clients that help them succeed in the sports and entertainment business. Positive Impact S+E brings innovative ideas, balanced with proven established business principles that help leagues, teams, conferences, venue developers, facility operators, governments, universities, media companies, corporations and sports entertainment rights-holders meet the challenges they face in the revenue-driven world of sports and entertainment today. Positive Impact S+E principals have produced and been involved in over 4,000 public events attended by over 80 million spectators in 17 countries. No other sports and entertainment business management firm has the experience and depth of knowledge to match Positive Impact S+E's skill sets and offerings.