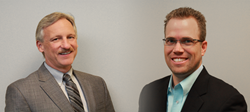 We are honored to be identified as the Veeam Impact Partner of the year.
Atlanta, GA (PRWEB) January 20, 2016
Corus360, a technology solutions company based in Norcross, GA, proudly announces it has been selected as the 2015 Impact Partner of the Year by Veeam® Software, the innovative provider of solutions that delivers Availability for the Always-On Enterprise™. The winners of the 2015 Veeam Impact Partner Awards™ were announced at Veeam's 2016 North American sales kickoff in Atlanta, GA on January 20, 2016. These inaugural awards recognize North American Veeam ProPartners who have not only demonstrated success in providing Veeam Availability solutions to their customers, but who have also provided first-class support, expert knowledge, continued product education, and have incorporated a true Veeam strategy into their business.
Corus360 was recognized as the Veeam Impact Partner of the Year for demonstrating the best overall performance in areas of consistent revenue growth, collaboration with Veeam and proactive selling, and promoting Veeam solutions and adjacent technologies. Corus360 has received the highest recognition among all 2015 Veeam Impact Partner Awards.
"We are honored to be identified as the Veeam Impact Partner of the year." said Steve Gruber, Vice President of Corus360's RES-Q Services. Tony Klinger, a Senior Disaster Recovery Architect at Corus360, stated "We hope that this relationship will continue to grow, as partnering with Veeam has given us valuable resources to help transform customers' businesses and solve their unique data protection and recovery challenges."
"We are excited to recognize and honor Corus360 as the Veeam Impact Partner of the Year" said Jim Tedesco, Senior Vice President of North American Sales at Veeam. "Our partnership with Corus360 has enabled us to provide Veeam Availability solutions to our joint customers, empowering them to meet the ongoing demands of the 24/7, Always-On Business™. We extend our congratulations to Corus360 and look forward to an even more successful 2016."
About Corus360
Corus360 is a technology consulting and solutions company with more than ten years of success delivering infrastructure solutions, recovery, and consulting services that help organizations reduce costs, increase efficiencies, and maximize productivity. We specialize in best of breed infrastructure solutions, IT management consulting, IT staffing, application development, Data Center technologies, disaster recovery, managed services, and enterprise applications. For more information, visit http://www.corus360.com.