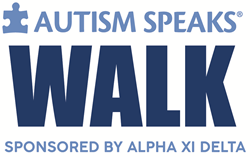 New York, N.Y. (PRWEB) January 19, 2016
Autism Speaks, the world's leading autism science and advocacy organization, is relaunching its signature fundraising events with a new name and a new role for a longtime supporter. Walk Now for Autism Speaks, which since 2005 has raised $266 million dollars to advance the organization's mission, has been rebranded as the Autism Speaks Walk. Sixty walks are slated for 2016. Alpha Xi Delta women's fraternity, a dedicated partner for several years, is now the official North American walk sponsor.
Since 2009, Alpha Xi Delta has raised more than $4 million dollars for Autism Speaks, and fraternity members currently walk and volunteer at Autism Speaks Walk events nationwide. "With 125 chapters all across the country, the visibility, planning and energy that Alpha Xi Delta brings to these walks are an enormous part of their success," said Brendan Burns, chief field officer for Autism Speaks.
Alpha Xi Delta's work not only generates vital funds for research but also raises awareness. On World Autism Awareness Day in 2015, the fraternity lit more than 1,200 buildings blue as part of Autism Speaks' Light It Up Blue campaign to honor the 70 million people affected by autism.
"We're very proud of the work our members have helped Autism Speaks accomplish," said Elysia Gallivan, executive director of Alpha Xi Delta. "This partnership is especially meaningful for our sisters, families and friends as the number of people affected by autism continues to increase. We're excited for the next phase of our partnership."
Volunteers, families, schools, businesses and community organizations are the driving force behind the walks. In 2015 alone, there were 415,000 participants at these family-friendly events, which also include resource fairs and an opportunity to meet local service providers. The dollars raised by each walk help fund programs and resources in the community and beyond.
The rebranding and the walk's redesigned logo come as Autism Speaks builds upon ten years of progress in advancing scientific research, advocacy, awareness and family services. Each event also offers information about Autism Speaks' online resources for every stage of life – from early diagnosis to education, the transition to adulthood, housing and employment.
To register for an Autism Speaks Walk or make a donation, go to: AutismSpeaksWalk.org.
About Autism
Autism is a general term used to describe a group of complex developmental brain disorders – autism spectrum disorders – caused by a combination of genes and environmental influences. These disorders are characterized, in varying degrees, by communication difficulties, social and behavioral challenges, and repetitive behaviors. An estimated 1 in 68 children in the U.S. is on the autism spectrum.
About Autism Speaks
Autism Speaks is the world's leading autism science and advocacy organization. It is dedicated to funding research into the causes, prevention, treatments and a cure for autism; increasing awareness of autism spectrum disorders; and advocating for the needs of individuals with autism and their families. Autism Speaks was founded in February 2005 by Suzanne and Bob Wright, the grandparents of a child with autism. Since its inception, Autism Speaks has committed more than $570 million to its mission, the majority in science and medical research. On the global front, Autism Speaks has established partnerships in more than 70 countries on five continents to foster international research, services and awareness. To learn more about Autism Speaks, please visit AutismSpeaks.org.
About Alpha Xi Delta
Founded in 1893 at Lombard College, now Knox College, in Galesburg Illinois, Alpha Xi Delta inspires women to realize their potential by providing opportunities for Sisterhood, leadership, knowledge and service. The national women's fraternity has more than 150,000 initiated members and chapters on 125 college campuses. For more information on Alpha Xi Delta Fraternity, visit alphaxidelta.org.
###