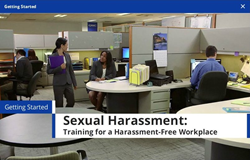 "Our goal is to create better workplaces for everyone. We believe that informed employees, regardless of their level of responsibility, lead to healthy cultures," said Kantola's CEO Allen Noren.
MILL VALLEY, CALIF. (PRWEB) January 20, 2016
To aid California businesses, non-profits, and government agencies with state mandated harassment training, Kantola Productions announces the release of Sexual Harassment: Training for a Harassment-Free Workplace — California Manager Version. The two-hour interactive video training complies with the requirements of California's AB 1825 harassment training legislation, including California-specific content to meet SB 292 and AB 2053. Free trials can be requested from Kantola or info(at)kantola(dot)com.
In this course, California managers and supervisors learn about their responsibilities to identify and prevent unwelcome and harassing behavior from occurring. They receive specific guidance for appropriate responses to take if such unfortunate behavior occurs. Topics covered include gender-based sexual harassment, hostile work environments and bullying, quid pro quo, conducting investigations, retaliation, the impact of social media in the workplace, and much more. The course uses a story-based format to convey important concepts and was produced with professional actors in actual workplaces to depict real-life scenarios in all their subtle forms.
California law requires employers with 50 or more employees to provide at least two hours of online, classroom, or other effective interactive sexual harassment training to all supervisory employees at least once every two years. And, new supervisory employees must receive the required training within six months of assuming a supervisory position.
"We provide organizations with harassment training of the highest caliber," said Kantola CEO Allen Noren. "And just as important, this aids the larger goal of creating a culture where all employees can thrive. Our goal is to create better workplaces for everyone. We believe that informed employees, regardless of their level of responsibility, lead to healthy cultures."
The course is supplemented by two print publications. The 58-page California Manager Study Guide reinforces concepts covered in the video and offers discussion questions for individual or group activities. The 104-page California Manager Trainer's Manual includes a sample harassment prevention policy, sign-up sheet, and certificate of completion that may be photocopied and distributed to learners. It also contains extra content for trainers, including updated DFEH documents, brochures, and posters, along with detailed answers to quiz questions. The course will also be available in countrywide manager and employee versions. All three will also be available in Spanish.
All Kantola training videos are available as DVDs, online through a custom, feature-rich Learning Management System (LMS) provided to customers for free, or as SCORM files for existing LMSs. Kantola's free LMS offers rapid deployment, 24 x 7 access, easy tools for managing groups and curriculum, automated learner reminder emails to keep mandatory training on track, and a progress tracking and reporting dashboard to keep on top of activity and completions.
# # #
ABOUT KANTOLA PRODUCTIONS
Winner of multiple Telly and Golden Eagle Awards for exceptional media content, Kantola Productions' compliance and soft-skills training videos are built upon the knowledge that managers and employees learn best when they can see and model ideal behavior. Our online videos, interactive e-learning, DVDs, and supplementary tools are used by the Fortune 100 and in businesses, non-profits, and government agencies of all sizes around the world. Located in Mill Valley, California, Kantola was founded in 1985 by social psychologist Steve Kantola, Ph.D., to bring the best of high quality video production and workplace-based scenarios to employers who seek to maximize employee performance, potential, and safety.