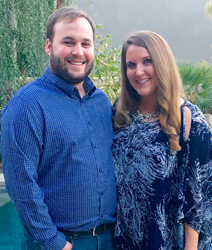 You can hire multiple companies to meet your needs, but that can be costly and hard to manage. TruBlue makes the process much easier by being the one company for all house care needs. - Kelsey Cromwell
Paducah, KY (PRWEB) January 19, 2016
Owning a home is part of the American Dream, but it can also be a headache. From a leaky faucet to a furnace that kicked the bucket, trying to keep up on home maintenance and repairs can sometimes feel like a full-time job – but it doesn't have to. Steve Martin and Kelsey Cromwell recently opened TruBlue Total House Care of Western Kentucky to help property owners with those scheduled and unexpected needs.
TruBlue of Western Kentucky specializes in providing handyman, maid and yard clean-up services. TruBlue works with homeowners, business owners and real estate professionals to maintain homes, small businesses and rental properties. By having a single source like TruBlue Total House Care handle all these tasks, home and business owners can save time on property maintenance and spend more time doing the things they love. TruBlue Total House Care can also help seniors and families with minor home adjustments like installing ramps, swapping door handles and putting up handrails.
This locally-owned TruBlue serves Paducah, West Paducah, Murray, Benton, Mayfield, Reidland, Draffenville, Kentucky Lake, Lone Oak, Ledbetter, Kevil, La Center, Wickliffe, Symsonia, Calvery City, Grand Rivers and Heath.
"The services TruBlue can provide do really make a difference in people's lives and the professionalism of our company means clients don't have to stress about bringing in contractors. Our entire system is built around excellent customer service and we're looking forward to raising the bar in the home maintenance market," Kelsey said.
Prior to opening TruBlue, Kelsey worked in HVAC and Steve owned a medical records company and worked for Enterprise. Kelsey also has experience in property management.
"We both understand the importance of excellent customer service and the challenge of having someone work on your home or business. We know that your home is a very personal space and we will respect your property and your time. Our end goal is to create relationships with our customers so they know they can call us anytime they need our help," Steve said.
Kelsey graduated from Marshall County High School and earned her Business Management degree from Brescia University. Steve graduated from Heath High School and also attended the University of Louisville. They're excited to be launching a small business in their hometown and working with seniors and busy families.
"We're especially looking forward to serving the seniors in our community. Having witnessed through the aging process with both sets of grandparents, we not only see the value in our senior access program, but the need in our community for it. I lost my grandfather last year and it's disheartening to see my grandmother struggle with maintaining the home by herself. You can hire multiple companies to meet your needs, but that can be costly and hard to manage. TruBlue makes the process much easier by being the one company for all house care needs," Kelsey said.
All TruBlue franchises are fully insured and bonded and all employees are background checked and certified. To learn more about TruBlue of Western Kentucky, call 270-462-2840, email SMartin(at)TruBlueHouseCare(dot)com or KCromwell(at)TruBlueHouseCare(dot)com, or visit http://www.TruBlueofWesternKY.com
About TruBlue Total House Care
TruBlue Total House Care provides one convenient and affordable solution for all your house care needs – inside and out. TruBlue's services include maid services, household repairs, yard work, emergency repairs and seasonal work, all handled by a personal House Care Manger. These affordable services are available year-round and customized to meet your needs and budget. TruBlue strives to provide affordable, worry-free living for seniors and hassle-free living for busy adults with the goal of eliminating the worries, hassles and headaches of home maintenance by providing full-service, trustworthy house care services to fit any budget.