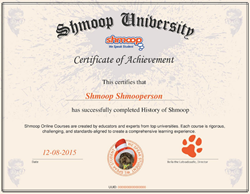 Mountain View, California (PRWEB) January 20, 2016
It seems like everyone under the age of 18 has aced a standardized test, founded a company, or saved a baby whale in an exotic location. Or...all three. So how are students supposed to stand out to admissions committees and employers in a sea of overachievers? Answer: Shmoop Course Certificates.
Shmoop (http://www.shmoop.com), a digital publisher known for its award-winning Test Prep and certified Online Courses, has introduced Certificates of Achievement, which users can earn for scoring 70% or higher from a teacher in any of Shmoop's rigorous Online Courses. With a Shmoop subscription, users get access to hundreds of courses, and they can earn an official certificate in each and every one. They can learn to code with Introduction to HTML and CSS, prove their linguistic chops with any of Shmoop's grammar courses, or get an official endorsement of their digital editing skills with Introduction to Photoshop. Students can then include the certificate on their CV or resume, drop it in an interview, or share it on Facebook, Twitter, or...their local refrigerator. The more professional of the bunch can even add the course to their LinkedIn profile to impress potential employers.
And students aren't the only ones who'll benefit from Shmoop's certificates. Teachers can use them as incentives in class, print them out and post them on the wall to showcase student achievement, or share them with parents and guardians to highlight individual successes. Bonus: homeschool teachers can add the certificates to their students' portfolios or include them on a now-much-more-hefty transcript.
Individual users can subscribe now to get access to all of Shmoop's Online Courses and hundreds of other premium products, and teachers and admins can contact sales(at)shmoop(dot)com about bulk discounts for schools and districts.
About Shmoop
Shmoop offers hundreds of thousands of pages of original content. Their Online Courses, Test Prep, Teaching Guides, Learning Guides, and interactive Study Tools are written by teachers and experts and balance a teen-friendly, approachable style with academically rigorous concepts. Shmoop sees 13 million unique visitors a month across desktop and mobile. The company has won numerous awards from EdTech Digest, Tech & Learning, and the Association of Educational Publishers. Launched in 2008, Shmoop makes the magic happen from a labradoodle-patrolled office in Mountain View, California.