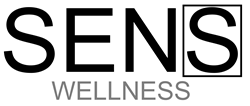 Redlands, CA (PRWEB) January 19, 2016
In an effort to change the world of health and wellness, Chef Holli Ugalde (Season 7 Winner, Hell's Kitchen by Fox/ITV) and James Love have developed and tested the SENS Wellness Program, a membership-based lifestyle program designed to give people basic structure to their life.
SENS is an acronym for Sleep, Exercise, Nutrition and Stress. The SENS Wellness Program is the proprietary process in which a SENS Wellness Consultant assists a person in balancing these pillars of life. This program has been proven, through trials at a medical clinic, to help people find balance in SENS that ultimately leads to a feeling of greater personal wellness. SENS works, SENS is easy and SENS is memorable.
SENS is designed to be free. While there is a small membership fee it is often offset by Insurance Credits for Membership in a Wellness Program. SENS is currently working with corporations for pre-approval from insurance companies in CA, AZ, NV, CO and MN. This approval will generate a net savings on health insurance for membership in either the Individual or Corporate SENS Wellness Program for both the employer and employee.
The foundation of SENS is the SENS Wellness Assessment (and associated follow up appointments). Through this a SENS Wellness Consultant is able to educate and provide realistic goals for clients. Wellness Consultants utilize the information in the new USDA 2015-2020 Dietary Guidelines for Americans, 8th Edition, December 2015, for all recommendations. Wellness Assessments are offered virtually for Individual Members and in a customized manner for Corporate Members.
SENS Wellness would like to thank Steven Wilson, M.D. and staff at his medical clinic in Redlands, CA for assisting in the SENS Wellness Trial.
To get started now, visit SENSWellness.org or email James(at)SENSWellness.org.
SENS Wellness is a trademark owned by SENS Lifestyle Consulting LLC, CA.