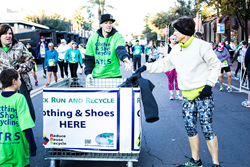 Phoenix, AZ (PRWEB) January 19, 2016
American Textile Recycling Service (ATRS) joined over 22,000 runners bright and early Sunday morning on the streets of Phoenix, Scottsdale and Tempe for the annual Rock 'n' Roll Arizona Marathon & 1/2.
Nearly 3,000 pounds of donated warmup gear, clothing and shoes was collected from the Health & Fitness Expo and the Course. Additionally, 400 pounds of unused finisher medals were recycled from the Finish Line. All of these donations help create much needed funding for Weldon House, the ATRS nonprofit partner in Phoenix. Weldon House is a sanctuary for local women in recovery, and funding from recycling partnerships such as this allows the organization to house children with their mothers while they work toward a new life.
ATRS also recycled approximately 3,000 pounds of perishable and nonperishable food and drink items that were leftover from the Finish Line on Sunday afternoon. The donated items were promptly delivered to the Tempe First United Methodist Church, located along the course, where they were handed out as part of the church's Serving the Homeless program on Monday morning.
These race weekend donations make a significant philanthropic impact in the local community, and so much more. The ROCK RUN RECYCLE partnership between ATRS and Rock 'n' Roll Arizona, now in its fourth year, also ensures a very small carbon footprint for the event. Approximately 6,400 total pounds of reusable items were diverted from local landfill on Sunday, helping the CIty of Phoenix work toward its waste diversion goal of 40% by 2020.
ATRS and Rock 'n' Roll Marathon would like to thank all the runners, spectators and community members who came out to help celebrate another clean, green race. For more information on donating gently used, unwanted running gear, clothing, shoes and other household textiles year round, call the 24-Hr Hotline at 866-900-9308 or visit http://www.atrscorp.com.
About American Textile Recycling Service
American Textile Recycling Service (ATRS) is the nation's fastest growing textile recycler and an official recycling partner of Rock 'n' Roll Marathon. Its socially responsible business model provides free textile recycling solutions for the public, job stimulation worldwide and much-needed funding for worthy local charities. Easy, convenient ATRS Recyclers are available throughout Colorado, Texas, Florida, Michigan, Tennessee, Atlanta, Oklahoma, Arizona, Indiana and Southern California. ATRS is committed to keeping textile waste from local landfills and promoting a greener tomorrow. For press inquires contact pr (at) atrsonline (dot) com.