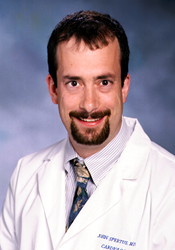 What is really needed is a way to show-for an individual stroke patient-whether administering tPA gives them the likelihood for a positive outcome.
Kansas City, MO (PRWEB) March 07, 2016
During a stroke, time saved equals brain cells saved, so every second counts when it comes to receiving treatment. The clot-busting medication tissue plasminogen activator (tPA) has proven to be one of the most effective treatments for ischemic stroke. However, tPA is not administered to those having a stroke as often or as quickly as it could be, due to the real concern that despite its ability to reverse stroke, tPA given to the wrong patient could cause dangerous bleeding.
"Some emergency room doctors feel the benefits of tPA far outweigh the risks. Others feel the risks far outweigh the benefits," said John A. Spertus, M.D., M.P.H., director of Saint Luke's Mid America Heart Institute's Cardiovascular Outcomes Research program. "What is really needed is a way to show–for an individual patient–whether administering tPA gives them the likelihood for a positive outcome."
To provide a risk/benefit analysis quickly for Emergency Department physicians, Saint Luke's, Tufts University, and UCLA, through the American Heart Association's Outcomes Research Center Initiative, collaborated to develop a tool based on data/evidence-based research that estimates within moments a specific patient's most likely 90-day outcome with and without tPA administration.
Rapid Evaluation for Stroke Outcomes using Lytics in Vascular Event, or RESOLVE, is a revolutionary tool that uses an individual patient's data to generate a risk/benefit analysis report detailing the most likely outcome of receiving tPA. The report provides emergency room physicians with hard, true evidence and fact-based data, enabling the physician, the patient, and their family to make the most well-informed and expedited decision. Research involved in developing RESOLVE looked at data from more than 2,100 patients from five randomized clinical trials, verified in a sixth trial.
RESOLVE supports and accelerates medical decision-making by reviewing six patient-specific clinical variables:

Last time known well
Age
Systolic BP
Diabetes
Current glucose
Stroke severity (level of consciousness, gaze, weakest limb)
0 graded = normal
1 graded = mild impairment
2 graded = severe impairment
If administered within three hours, and up to 4.5 hours in certain eligible patients, tPA may improve patients' chances of recovering from stroke. A good outcome means functional independence at 90 days (a modified Rankin of 0-2). A bad outcome means severe disability or death at 90 days (a modified Rankin of 5-6). The earlier tPA is properly administered, the more brain cells may be saved, and the more likely a patient will have a better outcome after treatment.
The Comprehensive Stroke Program at Saint Luke's Marion Bloch Neuroscience Institute began using the RESOLVE tool in November 2015. Saint Luke's envisions this tool will be most useful to physicians at Emergency Departments that treat a limited number of stroke patients, enabling them to bring the patient and family into an expedited decision-making process and make decisions that will result in better patient outcomes. Currently, referring physicians may access a consulting neurologist and the RESOLVE tool by contacting Doctors' One Call at Saint Luke's Marion Bloch Neuroscience Institute.
"This is evidence-based medicine that provides a roadmap for each individual patient, and should be very helpful in making the right decisions," said Karin E. Olds, M.D., stroke program director at Saint Luke's Marion Bloch Neuroscience Institute. "Our challenge is creating demand for this kind of tool. When physicians are ready for such tools to help with stroke care, RESOLVE is a perfect solution for them."
Saint Luke's receives stroke patients from more than 80 hospitals in the Kansas City, Mo. region. When a patient's originating hospital accurately diagnoses and begins stroke treatment prior to transfer, long-term outcomes improve dramatically.
Signs and symptoms of a stroke include:

Sudden weakness on one side of the body
Sudden numbness on one side of the body
Sudden loss of vision – especially in one eye
Sudden difficulty speaking or understanding
Sudden severe headache
Saint Luke's Marion Bloch Neuroscience Institute (SLMBNI) is a comprehensive center for neuroscience research, education, and evidence-based medicine that combines faculty in neurology, neurosurgery, interventional neuroradiology, neurootology, psychiatry, and physical medicine and rehabilitation. Together SLMBNI faculty provides patient-centered leading-edge care to thousands of patients from all over the country each year. As a member of Saint Luke's Health System, SLMBNI is a global leader in utilizing both drug and mechanical interventions to reverse the permanent and debilitating effects of ischemic stroke. Its legacy of innovation began in 1993 when doctors performed one of the world's first intra-arterial stroke reversal procedures. Since then, Saint Luke's specialists have continued to pioneer new stroke treatments and reverse strokes in thousands of patients through its network of stroke centers. Located in Kansas City, Mo., SLMBNI brings together a team of highly specialized neuroscientists to provide comprehensive treatment for the most complex neurological diseases, including stroke, epilepsy, brain tumors, Parkinson's and Alzheimer's diseases, multiple sclerosis, headaches and facial pain, as well as aneurysms and intracerebral hemorrhages. The Institute's multispecialty team provides the latest in minimally invasive spinal surgical techniques for the treatment of acute and chronic back pain. SLMBNI strives to be a national leader in neurological treatment and care by advancing clinical research and evidence-based clinical practice.
Saint Luke's Health System consists of 10 area hospitals and several primary and specialty care practices, and provides a range of inpatient, outpatient, and home care services. Founded as a faith-based, not-for-profit organization, our mission includes a commitment to the highest levels of excellence in health care and the advancement of medical research and education. The health system is an aligned organization in which the physicians and hospitals assume responsibility for enhancing the physical, mental, and spiritual health of people in the metropolitan Kansas City area and the surrounding region.