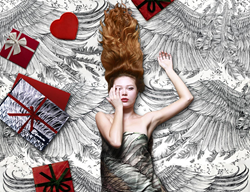 "I cried when I opened this gift. I don't use magnificent lightly"
Byron Bay, Australia (PRWEB) January 21, 2016
After a record-breaking Christmas season for Shovava.com, the appeal of Roza's stunning line of hand drawn winged scarves continues to soar into Valentine's Day. Roza received additional internet prominence this season as a twice featured artist on Bored Panda, one of the leading art, design and photography communities for creative people. Additionally, Shovava recently hit a breakthrough number of over 100K admirers on Etsy alone—truly devoted fans who covet her awe inspiring designs. Celebrities have also been brought under her wings and she was even recently commissioned to created a special limited edition scarf for Julian Lennon's White Feather Foundation.
Roza says she is "truly overwhelmed by the outpouring of support and enthusiasm from my followers and clients. While I have always poured my heart and soul into my art, I never imagined that I would be able to transform my labor of love into such a successful clothing line. I really feel connected to my art and the freedom and adventurous spirit I aim to capture has really resonated. Part of my success I think has also been to consider not only design, but the versatility of my creations. I get amazing photos of my clients wearing them as scarves, sarongs, and wraps etc., some of which I post to Social Media. "
It is no secret that a holiday that embraces love for one's partner, can be an extraordinarily difficult holiday for which to shop. One hopes for a gift that embraces love and flirtation, yet speaks to spirit, personality and thoughtfulness. Roza's creations are the perfect way to escape the commercialism of the holiday and the fallback routine of buying chocolates that don't always inspire or flowers that don't always endear.
If you are looking for an inspired and artistic gift this Valentine's, look no further than the stunning wearable art of Roza Khamitova at Shovava.com or the Etsy shop.