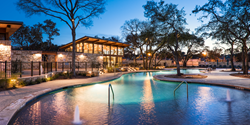 This Amenity Center is a microcosm of the Northwoods community as a whole – green, well-designed and created with both our residents and the environment in mind
Austin, Texas (PRWEB) January 21, 2016
Today, Northwoods at Avery Ranch announces that the community's Amenity Center has been awarded the prestigious 5-Star rating from Austin Energy Green Building (AEGB). Sustainability and green living are hallmarks of the Northwoods community, and per a restrictive covenant with the City of Austin, the project was required to achieve at least a two-star rating set forth by AEGB. Beyond that, the project developer – Trio Development – has committed to and succeeded in going above and beyond the two-star rating to infuse sustainability throughout the project, including the Amenity Center.
The Amenity Center features a variety of innovative, sustainable features that factored into the AEGB's 5-star rating – including both construction and design elements, as well as more lifestyle, community-facing features. The Amenity Center features natural stone and wood materials on the façade, and was oriented to maximize free energy from both the sun and wind through solar orientation and passive ventilation. Inside, the building features LED lighting, energy-efficient appliances, high-efficiency HVAC systems and innovative plumbing features. More community-facing sustainable elements in the Amenity Center include a rainwater collection cistern, which doubles as a design element in the pool area, a butterfly garden, which helps pollinate the plants and native landscaping throughout the area, as well as a children's playscape made with recycled materials.
"Trio Development is focusing its efforts on shifting the perspective and intent of land development in Central Texas towards conservation," said Angie Newman, Vice President of Trio Development. "At Northwoods, we had the opportunity to work closely with the AEGB and our partners to provide an innovative community gathering place that was a microcosm of the community as a whole – green, well-designed and created with both our residents and the environment in mind."
Green building is a cornerstone of the Northwoods community, and the developer has carefully planned the community to minimize its impact on the surrounding environment. In 2013, it became the first community in Texas to obtain a four-star rating from the Home Innovation Research Labs of the National Association of Homebuilders, recognizing sustainable practices within the development. The site plan of the 182-acre master-planned community was tailored to protect over 6,000 old growth trees, and features native landscaping, access to nearby transit and homes that incorporate green building principles.
Since the neighborhood opened in North Austin in 2013, Northwoods at Avery Ranch is now 75% sold, with remaining homes available from David Weekley Homes, Grand Haven Homes, Scott Felder Homes and Standard Pacific Homes. More information about Northwoods at Avery Ranch is available at http://northwoodsataveryranch.com/.
###
About Trio Development
Trio Development is an Austin-based real estate development firm specializing in family and active adult residential communities. Stewardship of land, trees and the environment is central to the company's work, which includes developments, entitlements and conservation. Current Trio projects include Presidio for David Weekley Homes, Grayson for Century Communities and The Homestead in Georgetown, a low impact development.
About Austin Energy Green Building
In 1991, Austin Energy Green Building (AEGB) developed the first rating system in the U.S. for evaluating the sustainability of buildings in Central Texas. By developing and maintaining its own Austin-specific rating systems, AEGB has the flexibility to carry out Austin's aggressive climate protection and energy conservation goals. Since 1991 AEGB has rated more than 10,000 single family homes, 85 multifamily projects containing more than 12,500 dwelling units and more than 200 commercial buildings exceeding 20 million square feet.