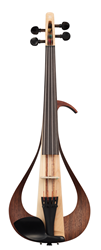 "Until now, there hasn't been an instrument that could provide a seamless transition . . . to an electric instrument. The Yamaha Electric Violin provides an easy pathway," said Ken Dattmore, Yamaha.
ANAHEIM,CA (PRWEB) January 21, 2016
Yamaha today introduced four new electric violin models, expanding the current Yamaha Silent/Electric Violin lineup. Available in four- or five-string models and priced at a comfortable entry point for any player, the all-wood YEV series provides outstanding sound and electric performance benefits while maintaining its appeal to traditional performers.
The graceful design is based on established violin elements, with additional style cues from Yamaha acoustic guitar luthiers. All-wood construction adds a natural character that reflects the instrument's heritage and these models are anticipated to appeal to acoustic players. The new Yamaha Electric Violins (YEV) are nearly identical in weight to an acoustic violin, providing a comfortable transition for the acoustic player. In addition, the established violin player can use his or her existing shoulder rest and favorite bow with the YEV Series.
The solid center body is crafted from maple, mahogany, and spruce, while the instrument frame is constructed of a rich, resonant walnut. The maple neck is capped with a solid ebony fingerboard and ebony tuning pegs. Both models are available with a natural wood body, or in a modern transparent black finish.
On the electric side, the YEV series borrow the same integrated bridge and pickup design found on the higher-end Yamaha Silent Violin Pro series. This unique system faithfully captures the sound of the entire instrument — the strings and the body, plus the player's bowing and articulation – while minimizing feedback. Controls are simple, with just a single volume and volume bypass knob. Located on the back of the body, the volume knob can be adjusted quickly with the left hand. The 1/4" output is also discreetly located on the back of the instrument, allowing the cable to be positioned out of the way, or allow for convenient connection to a wireless transmitter pack.
"When it comes to the electric violin, there will always be players who are early technology adopters," said Ken Dattmore, marketing manager, strings, Yamaha Corporation of America, "Until now, there hasn't been an instrument that could provide a seamless transition for the multitudes of country, folk, and bluegrass fiddle players — or the legions of rock, jazz and classical violinists — ready to make the move to an electric instrument. The Yamaha Electric Violin provides an easy pathway."
Availability
YEV104NT 4-String, Natural Finish
YEV104TBL 4-String, Trans. Black
YEV105NT 5-String, Natural Finish
YEV105TBL 5-String, Trans. Black
The Yamaha Electric Violin ships in February 2016. For more information, visit the Yamaha Booth at the 2016 NAMM Show in the Anaheim Marriott Hotel, Marquis Ballroom, January 21-24, 2016, or http://4wrd.it/YEV
About Yamaha
Yamaha Corporation of America (YCA) is one of the largest subsidiaries of Yamaha Corporation, Japan and offers a full line of award-winning musical instruments, sound reinforcement, commercial installation and home entertainment products to the U.S. market. Products include: Yamaha acoustic, digital and hybrid pianos, portable keyboards, guitars, acoustic and electronic drums, band and orchestral instruments, marching percussion products, synthesizers, professional digital and analog audio equipment, Steinberg recording products and NEXO commercial audio products, as well as AV receivers, amplifiers, MusicCast wireless multiroom audio systems, Blu-ray/CD players, earphones, headphones, home-theater-in-a-box systems, sound bars and its exclusive line of Digital Sound Projectors. YCA markets innovative, finely crafted technology and entertainment products and musical instruments targeted to the hobbyist, education, worship, music, professional audio installation and consumer markets.