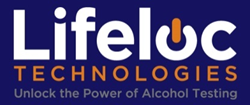 Denver, Colorado (PRWEB) January 20, 2016
Lifeloc Technologies (OTC:LCTC), a leading manufacturer and exporter of professional breath alcohol testers for use by Law Enforcement, Corrections, Schools and the Workplace, announced today that its Board of Directors has named Dr. Wayne Willkomm to the position of president and CEO of Lifeloc Technologies effective January 18, 2016. Dr. Willkomm has served as a director of Lifeloc since 2011. Current Lifeloc Technologies CEO Barry Knott, who has held the role of CEO since 2010, is stepping down for family reasons but will remain on the Lifeloc Technologies Board of Directors. In addition, Lifeloc Technologies president G. Ravishankar has resigned from all of his positions with the company effective December 31, 2015, to pursue other interests.
Wayne joins Lifeloc Technologies from the chemicals and materials industries, where he has worked in research and development, marketing, and managerial roles. Dr. Willkomm has served as the president of Kryptane Systems, LLC. He has also served as the president of the Tool and Molding Division of Intrex Corporation. Dr. Willkomm has led his own chemical technology consulting business advancing product development and manufacturing in areas including renewable materials and medical devices.
Said Barry Knott of the change, "I am very pleased that Wayne is assuming the reins of Lifeloc. Dr. Willkomm brings a wealth of successful product and market development experience that I believe will enable Lifeloc to continue to lead our industry in innovation, quality and customer service."
Dr. Willkomm commented, "It is an exciting time to be at Lifeloc. We are well positioned for growth and I look forward to building the business through an increasingly effective alcohol and drug detection product pipeline. I am excited to work with our employees, distributors and customers on the opportunities that lie ahead." Dr. Willkomm holds a B.S. degree in Chemical Engineering and Chemistry from Carnegie Mellon University and a Ph.D. in Chemical Engineering from the University of Minnesota. He is also an inventor on 13 patents.
About Lifeloc Technologies
Lifeloc Technologies is a developer and manufacturer of professional breath alcohol testers including Evidential Breath Alcohol Testers and Alcohol Screeners. We are a fully reporting Company with our SEC filings available on our website (http://www.lifeloc.com) or at the SEC's website (http://www.sec.gov). Lifeloc stock trades over-the-counter under the symbol LCTC.
Forward Looking Statements
This press release includes forward-looking statements within the meaning of the Private Securities Litigation Reform Act of 1995, which involve substantial risks and uncertainties that may cause actual results to differ materially from those indicated by such forward-looking statements. All forward-looking statements in this press release, including statements about our strategies, management team, expectations about new and existing products, market demand, acceptance of new and existing products, technologies and opportunities, market size and growth, and return on investments in products and market, are based on information available to us on the date of this document, and we assume no obligation to update such forward-looking statements. Investors are strongly encouraged to review the section titled "Risk Factors" in our SEC filings, available free of charge at the SEC's website (http://www.sec.gov).
Contact Information
Kristie LaRose
Lifeloc Technologies
http://www.lifeloc.com
303.431.9500
Sales
Lifeloc Technologies
http://www.lifeloc.com
303.431.9500