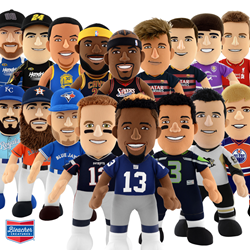 We're thrilled to be coming back to the Sports Licensing and Tailgate Show, where we'll present the most expansive sports collection in our company's history
(PRWEB) January 20, 2016
Bleacher Creatures, the innovative licensing manufacturer renowned for its incredibly true-to-life plush figures of sports and entertainment icons, will return to the annual Sports Licensing and Tailgate Show in Las Vegas, January 24–26, 2016. The show is the premier event for brand owners, licensors, licensees and retailers interested in sports licensed products. Bleacher Creatures will present its extensive line of plush from all five major league sports as well as European football (soccer) and NASCAR at Booth #8066.
Bleacher Creature plush superstars coming to Vegas will include Klay Thompson of the NBA, J.J. Watt of the NFL, Mike Trout of MLB, Sidney Crosby of the NHL, and NASCAR's Dale Earnhardt, Jr.—along with dozens of others. Bleacher Creatures launched four years ago with a single-digit number of plush figures, and today boasts hundreds of plush figures representing seven major sports (including players from every team in Major League Baseball).
"We're thrilled to be coming back to the Sports Licensing and Tailgate Show, where we'll present the most expansive sports collection in our company's history," said Matthew Hoffman, founder and president of Bleacher Creatures. "Fans have been unanimous in their excitement about seeing their favorite sports icons in 10-inch-tall plush size, and we anticipate a fantastic reaction once again from the attendees at the Sports Licensing and Tailgate Show."
The Bleacher Creatures plush figures that will be on display at the show include perennial favorites in each major-league sport, as well as recent superstar additions and eagerly anticipated plush making their 2016 debuts:
NFL

More than 90 unique players, including superstars Odell Beckham Jr (New York Giants), Tom Brady (New England Patriots), Aaron Rodgers (Green Bay Packers), Larry Fitzgerald (Arizona Cardinals), Rob Gronkowski (New England Patriots), J.J. Watt (Houston Texans), Russell Wilson (Seattle Seahawks), and Antonio Brown (Pittsburgh Steelers)
NBA
More than 60 superstars, including Steph Curry (Golden State Warriors), LeBron James (Cleveland Cavaliers), Klay Thompson (Golden State Warriors), James Harden (Houston Rockets), Anthony Davis (New Orleans Pelicans), Kevin Durant (Oklahoma City Thunder), Russell Westbrook (Oklahoma City Thunder)
NBA Legends include Allen Iverson, Shaquille O'Neal, Larry Bird, Dennis Rodman, Scottie Pippen, Muggsy Bogues, Karl Malone, and John Stockton
NHL

More than 50 NHL superstars, including Sidney Crosby (Pittsburgh Penguins), Alex Ovechkin (Washington Capitals), Jonathan Toews (Chicago Blackhawks), Henrik Lundqvist (New York Rangers), P.K. Subban (Montreal Canadiens), Patrice Bergeron (Boston Bruins), Rick Nash (New York Rangers)
Rookie sensations Connor McDavid (Edmonton Oilers) and Jack Eichel (Buffalo Sabres)
MLB
More than 75 MLB superstars including Bryce Harper (Washington Nationals), Buster Posey (San Francisco Giants), Mike Trout (Los Angeles Angels of Anaheim), Clayton Kershaw (Los Angeles Dodgers), David Ortiz (Boston Red Sox), Andrew McCutchen (Pittsburg Pirates)
New for 2016: 2015 AL MVP Josh Donaldson (Toronto Blue Jays), 2015 CY Young Award winners Jake Arietta (Chicago Cubs) and Dallas Keuchel (Houston Astros), 2015 Rookie Of The Year Award Winners Kris Bryant (Chicago Cubs) and Carlos Correa (Houston Astros), and 2015 World Series Champs Kansas City Royals Eric Hosmer and Lorenzo Cain
SOCCER: MLS

12 MLS superstars including David Villa (New York City FC), Frank Lampard (New York City FC), Clint Dempsey (Seattle Sounders FC), and Kaká (Orlando City SC)
New for 2016: Steven Gerrard (Los Angeles Galaxy), Andrea Pirlo (New York City FC), Robbie Keane (Los Angeles Galaxy), Giovani Dos Sants ( Los Angeles Galaxy) and more
SOCCER: European Football Clubs

Global superstars Neymar and Lionel Messi of FC Barcelona
Teams include FC Barcelona, Chelsea, Liverpool, and Manchester City
NASCAR
Driving legends Dale Earnhardt, Jr., Jimmie Johnson, Jeff Gordon
About Bleacher Creatures
Bleacher Creatures is an innovative licensing manufacturer that produces a variety of children's toys and fan enthusiast products through partnerships with professional sports leagues and entertainment properties. Bleacher Creatures are incredibly true-to-life plush figures of the greatest athletes and entertainment icons, allowing young fans (those who are young at heart) to put their passion in play. Bleacher Creatures' goal: to encourage fun, inspiration and, of course, play among fans of any age.
Media Contact
Alison Hill
CurrentPR for Bleacher Creatures
714.287.2015
alison(at)currentpr(dot)com