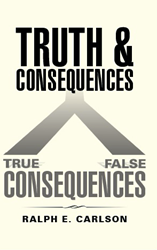 Evolutionists claim that all life on earth has evolved from simple forms of life over thousands of years and that this claim has been proven to be a scientific fact. However, this is a logical error in their so-called proof
GROVE CITY, Pa. (PRWEB) January 20, 2016
As a former professor of mathematics, Ralph Carlson has spent considerable time working with students to help them develop logically correct arguments in constructing proof.
After attending a conference that discussed creationism, intelligent design, and evolution – Carlson felt challenged to dig deeper into these same approaches just as he encourages his own students to use logic to find the truth of mathematical arguments.
In Carlson's new book "Truth and Consequences," he transforms the question of God's existence and related questions into propositions.
"Instead of attempting to answer the questions concerning God's existence, I approach everything with statements that are either true of false. There is no middle ground," Carlson said.
Along with encouraging his readers to answer tough questions, Carlson also challenges the theory of evolution and it's logic over billions of years.
"Evolutionists claim that all life on earth has evolved from simple forms of life over thousands of years and that this claim has been proven to be a scientific fact. However, this is a logical error in their so-called proof," Carlson said.
Is God trying to speak to America? Does God exist? What is the source of life on earth? Read "Truth and Consequences" and find out.
"Truth and Consequences"
By: Ralph Carlson
ISBN: 978-1-4917-7318-5
Available in softcover, hardcover, e-book
Available on Amazon, Barnes & Noble and iUniverse
About the author
Dr. Ralph Carlson graduated from the University of Pittsburgh with a doctorate degree in mathematics. Carlson is now a retired professor from Grove City College and has published over 25 articles on mathematics in a variety of scholarly journals. Recently, Carlson wrote his book "Truth and Consequences," that provides answers to the truth of God's existence and the source of life on earth. Carlson currently resides in Pennsylvania and enjoys spending time with his wife, children, and golfing.
# # #
For review copies or interview requests, contact:
Katie Wenclewicz
317.602.7137
kwenclewicz(at)bohlsengroup(dot)com