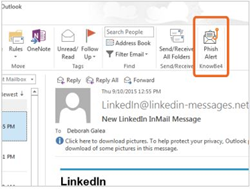 We have tested this tool on thousands of user desktops with great results, so decided to make this a free tool for anyone using Outlook as it is one of the main attack vectors for phishing emails--Stu Sjouwerman, CEO KnowBe4
Tampa Bay, FL (PRWEB) January 20, 2016
KnowBe4 announced the release of a new tool for IT managers that can be deployed to their user's Outlook Inbox, allowing employees a safe way to report a suspected phishing attack. The tool helps educate users to be alert for phishing attacks and enables them to easily report a suspicious email with a simple click, providing the security team a way to analyze threats and prevent future exposure. All email headers are included for the security team and the email gets deleted from the user's inbox.
"We have tested this tool on thousands of user desktops with great results, so decided to make this a free tool for anyone using Outlook as it is one of the main attack vectors for phishing emails," said KnowBe4 CEO, Stu Sjouwerman. "Phish Alert puts an additional "human firewall" security layer in place that directly forwards phishing attacks to an organization's Incident Response Team for analysis and follow up," noted Sjouwerman.
The tool has a customizable button text and user dialog boxes that IT can use to reinforce any special instructions, validate behavior or acknowledge the user. The receiving email address can also be changed and a prefix added, allowing Incident Response to monitor users as a network of "sensors". Employees get instant feedback, all with one click.
KnowBe4 customers have the additional ability to validate users who correctly identify a simulated phishing email, reinforcing their training. The action also gets recorded in the KnowBe4 Admin Console for review and reporting. With nearly 3000 enterprise customers, KnowBe4 is the world's most popular integrated Security Awareness Training and Simulated Phishing platform and specializes in making sure employees understand the mechanisms of spam, phishing, spear-phishing, malware and social engineering, and are able to apply this knowledge in their day-to-day job.
Versions supported are Outlook 2007, 2010, 2013, 2016 for Windows and Outlook for Office 365.
Phishing (and spear phishing) are the most common and widely used methods of social engineering. Cyber criminals have become much more sophisticated, making their emails look quite legitimate. Billions of dollars are lost annually with over 1.2 billion lost to business email "CEO fraud" through August 2015 according to the FBI. Add ransomware, which is still on the rise, into the mix and untrained users have a bullseye painted on their backs.
One of the most effective steps organizations can take to manage the problem of social engineering is to step their users through a program like the Kevin Mitnick Security Awareness Training & integrated simulated phishing offered by KnowBe4.
For more information visit: http://www.knowbe4.com
About Stu Sjouwerman and KnowBe4
Stu Sjouwerman (pronounced "shower-man") is the founder and CEO of KnowBe4, LLC, which hosts the world's most popular integrated Security Awareness Training and Simulated Phishing platform. A data security expert with more than 30 years in the IT industry, Sjouwerman was the co-founder of Inc. 500 company Sunbelt Software, a multiple award-winning anti-malware software company that was acquired 2010. Realizing that the human element of security was being seriously neglected, Sjouwerman decided to help organizations manage the problem of cybercrime social engineering tactics through new school security awareness training. Nearly 3000 organizations in a variety of industries, including highly-regulated fields such as healthcare, finance, energy, government and insurance have mobilized their end users as a first line of defense using KnowBe4. Sjouwerman is the author of four books, with his latest being "Cyberheist: The Biggest Financial Threat Facing American Businesses."
About Kevin Mitnick
Kevin Mitnick, 'the World's Most Famous Hacker', is an internationally recognized computer security expert with extensive experience in exposing the vulnerabilities of complex operating systems and telecom devices. He gained notoriety as a highly skilled hacker who penetrated some of the most resilient computer systems ever developed. Today, Mitnick is renowned as an information security consultant and keynote speaker and has authored four books, including The New York Times best seller Ghost in the Wires. His latest endeavor is a collaboration with KnowBe4, LLC as its Chief Hacking Officer.