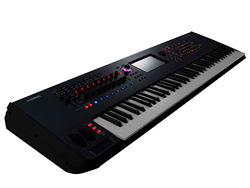 "Montage is the culmination of over forty years of synthesizer legacy and innovation." said Nate Tschetter, marketing manager, music production, Yamaha Corporation of America. "Playing and experiencing Montage is, quite simply, inspiring."
ANAHEIM (PRWEB) January 25, 2016
Yamaha introduced the Montage, which represents a new era in synthesizer technology by offering unprecedented ways for keyboard players to control and interact with sound, last week at the 2016 NAMM Show.
For more than 40 years, Yamaha has developed industry-leading synthesizers, from the revolutionary DX7 in the 1980s to the renowned Motif series – one of the best-selling synthesizers of all time. Now, Yamaha raises the bar again with Montage. Montage, available in 61-, 76- and 88-key configurations, features the Motion Control Synthesizer Engine, a powerful and intuitive way to interact with and control sound.
The Motion Control Synthesizer Engine controls two iconic Sound Engines: Advanced Wave Memory 2 (AWM2) and FM-X.
Compatible with previous generation Motif libraries, the AWM2 engine is exponentially more powerful than the previous Motif XF flagship with nearly ten times more wave memory, integrated flash, double the effects and twice the polyphony.
Joining the powerful AWM2 engine is FM-X. An amazingly sophisticated pure FM (Frequency Modulation) synthesizer engine capable of producing classic '80s or cutting-edge EDM sound with incredible dynamic range, power and fidelity.
Montage also features a brand new user interface with color touch screen, endless rotary encoders and the Super Knob: a macro control allowing users to control multiple parameters simultaneously. The inspiring Montage brings newfound power to performers, songwriters, producers and sound designers.
"Montage is the culmination of over forty years of synthesizer legacy and innovation." said Nate Tschetter, marketing manager, music production, Yamaha Corporation of America. "Playing and experiencing Montage is, quite simply, inspiring."
Pricing and Availability
The Yamaha Montage8 (88-key), Montage7 (76-key) and Montage6 (61-key) will ship in May 2016.
For more information, visit the Yamaha Booth at the 2016 NAMM Show in the Anaheim Marriott Hotel, Marquis Ballroom, January 21-24, 2016, or http://4wrd.it/Montage
-END-
About Yamaha
Yamaha Corporation of America (YCA) is one of the largest subsidiaries of Yamaha Corporation, Japan and offers a full line of award-winning musical instruments, sound reinforcement, commercial installation and home entertainment products to the U.S. market. Products include: Yamaha acoustic, digital and hybrid pianos, portable keyboards, guitars, acoustic and electronic drums, band and orchestral instruments, marching percussion products, synthesizers, professional digital and analog audio equipment, Steinberg recording products and NEXO commercial audio products, as well as AV receivers, amplifiers, MusicCast wireless multiroom audio systems, Blu-ray/CD players, earphones, headphones, home-theater-in-a-box systems, sound bars and its exclusive line of Digital Sound Projectors. YCA markets innovative, finely crafted technology and entertainment products and musical instruments targeted to the hobbyist, education, worship, music, professional audio installation and consumer markets.