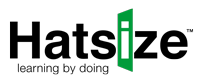 "I am pleased to announce Ryan Hoult's appointment as CEO," said Don Van Mierlo, Chairman of the Board of Directors at Hatsize
Calgary, AB (PRWEB) January 20, 2016
Hatsize Learning Corporation ("Hatsize"), announced today that Ryan Hoult, current CFO and Vice-President, Operations, at Hatsize, has been appointed CEO.
"I am pleased to announce Ryan Hoult's appointment as CEO," said Don Van Mierlo, Chairman of the Board of Directors at Hatsize, "In his past roles, Ryan has successfully lowered our cost structure, managed our refinancing efforts and reorganized our operational teams. His track record shows he has the vision and strong leadership required to continue Hatsize's growth. I look forward to him using his talents to advance Hatsize's position in the online learning market."
The company also announced that Guy Hummel, co-founder of Hatsize, has stepped down from his role as chief executive officer; Mr. Hummel will remain a Director of the corporation. Mr. Van Mierlo said, "We thank Guy for leading Hatsize over the past 15 years, and for all his accomplishments during that time. We look forward to his continued insights as a member of the Board."
Prior to joining Hatsize, Mr. Hoult spent 5 years as the CFO of a family-owned group of companies in Calgary that assist businesses from around the world in raising capital from the prospectus-exempt markets in Canada. He also has expertise leading operational improvement projects including corporate reorganizations and systems automation. Mr. Hoult is a Chartered Accountant and US Certified Public Accountant; he graduated from Memorial University of Newfoundland with a bachelor degree in computer science in 2006.
About Hatsize
Hatsize is the leading global provider of cloud-based training labs for software products. As a cloud service, Hatsize has successfully delivered over 2 million hours of hands-on training sessions for some of the world's fastest growing technology and training organizations including Symantec, Veritas, Trimble, and MicroTek.