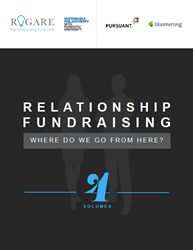 Plymouth, Devon, UK (PRWEB) January 21, 2016
Led by renowned fundraising expert Dr. Adrian Sargeant along with Rogare director Ian MacQuillin and Jen Shang, the review identifies how current theories of relationship building and maintenance from social psychology could be transferred to donor relationships. The four volume report is sponsored by U.S. companies Pursuant and Bloomerang.
"Rogare's research gives us a fresh playbook. It unpacks qualities important to both 'relationship' and 'fundraising,' with actionable insights vital to development success today. As a proud sponsor of this study, may this work help you enrich your donor relationships and find greater meaning in the important work you do," said Pursuant CEO Trent Ricker.
The study examines the fundamental question in fundraising: how do donors want to be approached?
Sargeant and team found that rather than blindly applying relationship fundraising to every individual donor, fundraisers should critically evaluate each fundraising situation to determine whether a "relationship" is the best approach.
MacQullin said, "It is absolutely essential that relationship fundraising draws on the latest relevant theory to continually refresh and reinvigorate the ways it can deliver the best possible experience for the donor. This has been lacking over the past 20 or so years but is imperative to ensure relationship fundraising does not stagnate in the future and become little more than a fundraising ideology."
The researchers also found that donor expectations shift as the relationship with an organization progresses. At the acquisition stage, donors need to be "aroused" to feel something for the cause because they are attracted by what the charity does and how it helps its beneficiaries. By the time the relationship is into the retention stage, social psychology theory predicts that donors will be far more focused on what the relationship does for them, so fundraisers need to meet those needs.
Jay Love, co-founder and CEO of Bloomerang said, "In her foreword to the second edition of Ken Burnett's groundbreaking book Relationship Fundraising, Jennie Thompson wrote that fundraising 'is people giving to people, the hope of a shared dream, the success of a worthy cause. And it will not be effective if we continue to treat our donors simply as computer records within gift categories. Those of us involved with this project believe the renewed focus on relationship fundraising will be immediate and long lasting. By empowering fundraisers with the theories, frameworks and ideas to be successful, we can finally realize the true potential of Ken's groundbreaking principles."
Rogare's researchers found that social psychology's Identity Theory provides a framework for how nonprofits can create long lasting relationships with donors. Nonprofits that cultivate a sense of identity and build communal relationships (rather than transactional relationships) with donors will see a seismic shift in the relationship between donors and the nonprofits they support.
The relationship fundraising research report includes the results of a survey of relationship fundraisers. The fundraisers' primary obstacle in their relationship fundraising efforts is a lack of support or engagement of their colleagues or board to deliver relationship fundraising. This included providing the budget needed to move beyond short-term transactional techniques. Many of those surveyed suggested that a solution would be to create a "culture of philanthropy" at an organization in which relationship fundraising can manifest.
MacQuillin said, "Members of our advisory group said the relationships they had with colleagues were not sufficiently strong to allow relationship fundraising to flourish. So fundraisers must think beyond the donor and start improving all those relationships that are currently impinging on the donor relationships, particular with CEOs, board and their supplier agencies."
The Rogare review suggests that one possible "refashioning" of relationship fundraising could be to adapt the notion of "total relationship marketing," which focuses on building relationships with all stakeholders (such as media, suppliers and regulators) that enable organizations to develop a relationship with their customers. Cultivating long tail relationships with donors is crucial, but so is developing trust within an organization's staff, board and fundraising agencies.
"The onus is on fundraisers to build these relationships to foster the culture of philanthropy, as it seems unlikely that the impetus will come from elsewhere," said MacQuillin.
Download the full report at:
http://www.pursuant.com/relationshipfundraising
For further information, contact Ian MacQuillin at Rogare (@RogareFTT) on 020 8659 1158 or 07977 422273 or ian.macquillin(at)plymouth.ac.uk
Visit the Rogare website at: https://www.plymouth.ac.uk/schools/plymouth-business-school/rogare
Bloomerang
Indianapolis-based Bloomerang, led by former eTapestry founder Jay Love, is a cloud-based donor management software tool designed to help small and mid-size nonprofits reach, engage and retain the advocates they depend on to achieve their vision for a better world.
Pursuant
Pursuant, based in Dallas, Texas, is a technology-driven, comprehensive fundraising agency serving the world's leading nonprofit organizations across the entire donor pyramid. Since 2001, Pursuant has helped thousands of organizations raise billions of dollars. Pursuant partners with health and human services organizations, educational institutions, athletic organizations, hospitals, faith-based organizations, and churches to impact lives through intelligent data, proven strategies, and award-winning creative to grow and sustain revenue.
About Rogare
Rogare (Latin for 'to ask') is the Centre for Sustainable Philanthropy's fundraising think tank and the home of Critical Fundraising – the discipline of critically evaluating what fundraisers know, or think they know, about their profession. Our remit is to explore under-researched and 'under-thought' areas of fundraising. One of our key aims is to generate new practical ideas by pulling together the academic and practitioner branches of the fundraising profession.
About Plymouth University
Founded in 1862 as a school of navigation and now the 15th largest university in the UK, Plymouth is one of the leading modern universities, ranked in the top four institutions in the country and 37th internationally under the age of 50 by the Times Higher Education. Twice awarded the Queen's Anniversary Prize for Higher Education, it has won numerous accolades in respect of its teaching and its research.
The University has one of the highest number of National Teaching Fellows of any UK university (20 National Teaching Fellowships in Higher Education since 2000), is ranked 19th in the UK and in the top 100 globally for research quality (2015 CWTS Leiden Rankings), with two-thirds of its research ranked as world-leading or internationally excellent (2014 Research Excellence Framework). It was also the first university in the world to receive the Social Enterprise Mark.
Its 27,000 students, which include those at its partner colleges across the South West, are enrolled on courses from farming to fine art, business to biology, and design to dentistry. The University has invested more than £150 million in its campus and is the first modern university to have launched a medical school. The University plays a key role within the South West region's economy and through its £100 million network of support facilities and services, is growing and supporting hundreds of businesses across the region and beyond. To find out how Plymouth is making a difference, please visit http://www.plymouth.ac.uk