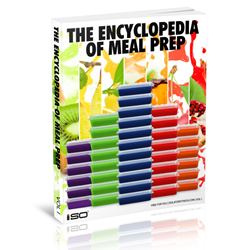 "Meal prep and healthy eating is 80% of the fitness equation. We value our customers so much, and if we can do anything to help them reach their wellness goals, we're all for it." -David Vollmer, Jr., CEO
(PRWEB) January 20, 2016
Isolator Fitness, Inc. has released a brand new publication for the clean eating community. The Encyclopedia of Meal Prep is replete with everything new and experienced health-conscious individuals need to know about meal prep. The encyclopedia is available in PDF-form, for free, to everyone, through their website (link below). It is a one stop meal prep shop including healthy recipes, cooking tips, and guides on common kitchen instruments from knives, to pots and pans, and everything in between. Isolator Fitness aims to provide their customers with the knowledge they need to confidently engage in the art of meal prepping, in hopes of inspiring them to feel empowered to reach their health and fitness goals and live the lives they want to live.
"Meal prep and healthy eating is 80% of the fitness equation" says David Vollmer, Jr., CEO of Isolator Fitness. "We've always gotten so many inquires from our customers about meal prep how-to's, we decided to take the time to put together a comprehensive guide for them to live by. We value our customers so much, and if we can do anything to help them reach their wellness goals, we're all for it."
Just in time for that New Year's Resolution push, this PDF file is jam-packed with tricks needed to save new, healthy lifestyles before the winter blues set in and disrupt New Year's goals. Sticking with nutrition goals and new diet plans can be hard without the proper tools and information, which is where the Encyclopedia of Meal Prep comes in handy.
Included are guides that explain how long food will last in the pantry, refrigerator and freezer; which foods can be substituted in for healthier options; how to make spices from scratch; and how to choose the right meal prep containers. Of course it also includes general cooking knowledge as well as tips on grilling, the importance of brining meat, and an entire article that teaches how to smoke foods (even without a smoker). This is more than just a guide to meal prepping, it is also a recipe book with sixty delicious recipes that are packed with whole and healthy ingredients, making it a fitness fanatic's dream come true.
Isolator Fitness is a manufacturer of superior quality meal prep bags for fitness, dieting and everyday use. Isolator Fitness has been in business since 2009, and manufacturing all of their bags at their Reading, Pennsylvania factory. They are the only company that produces their products in the USA.