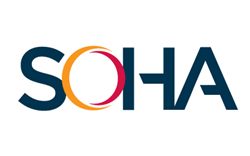 Sunnyvale, CA (PRWEB) January 20, 2016
Soha Systems Vice President of Security Mark Carrizosa will be a featured speaker at CIOarena Houston, a conference uniting Houston-based IT leaders in a day of thought provoking discussions, a panel discussion and peer-to-peer networking, taking place on January 21, 2016.
Carrizosa, who was the principal security architect for Walmart eCommerce before joining Soha Systems in early 2015, will lead a discussion with 100 corporate technology leaders on the challenges enterprises face providing secure remote access in today's cloud and mobile-dominated environment. During his interactive session, he will present unique perspectives on enterprise requirements for mobility, BYOD and cloud, and why traditional access approaches, such as virtual private networks (VPNs), proxies and remote desktop technologies are failing. Carrizosa will also introduce a new access model for today's enterprise that is faster and simpler to deploy.
Carrizosa's session will take place from 10:30 a.m. to 11:00 a.m. room at the JW Marriott Houston Galleria.
About Soha Systems
Soha Systems is an innovator of Enterprise Secure Access as a service for mobile employees and third parties. Our service, Soha Cloud, enables a radically new approach for secure remote access that eliminates VPNs for on-premise and cloud environments, resulting in stronger security - including multi-factor authentication – faster, easier deployments and lower cost. Soha Cloud can be deployed as an application's first line of defense in minutes, instead of months, enabling a zero CapEx, low OpEx model for critical workloads deployed in data centers and hybrid cloud environments. For more information, visit http://www.soha.io and join the conversation on Twitter @SohaSystems.
###